NASA Astronauts Chat Live from Space Station with Maryland Students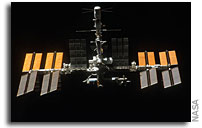 Elementary, middle and high school students from Charles County Maryland Public Schools will speak with NASA Expedition 38 crew members aboard the International Space Station at 11:05 a.m. EST Tuesday, Nov. 26.
Students will have the opportunity to ask NASA astronauts Mike Hopkins and Rick Mastracchio questions about life, work and research aboard the space station. Media are invited to attend and cover the 20-minute Earth-to-space call, which also will be broadcast on NASA Television and the agency's website.
To attend the event, journalists must contact Katie O'Malley Simpson at 301-934-7221 or komalley@ccboe.com. The event will be held at the Charles County Public Schools Administration Building, located at 5980 Radio Station Road in La Plata, Md.
Linking students directly to station astronauts provides them with an authentic experience of space exploration, scientific studies, and possibilities for future human space exploration. NASA activities have been incorporated into classes at the schools in preparation for the conversation.
Education downlinks are an integral component of NASA's Teaching From Space education program, which promotes learning opportunities and builds partnerships with the education community using the unique environment of space and NASA's human spaceflight program. This downlink is one in a series with educational organizations in the United States to enhance and encourage science, technology, engineering and mathematics (STEM) teaching and learning.
To keep up with Hopkins' research and life on the station through Twitter, follow:
http://www.twitter.com/AstroIllini
To follow Twitter updates from astronaut Mastracchio, visit:
http://www.twitter.com/AstroRM
The exact time of the downlink could change. For NASA TV streaming video, schedule and downlink information, visit:
For information about NASA's education programs, visit:
For information about the International Space Station, visit: