NASA Announces Winning Ideas for Mars Balance Mass Challenge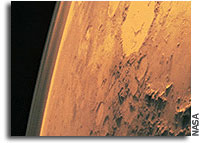 A self-employed technical consultant from Texas with an idea to study the Martian atmosphere and a team of engineers from Michigan with a way to study Martian weather are the winners of NASA's Mars Balance Mass Challenge.
Ted Ground of Rising Star, Texas, was awarded $20,000 for his idea to study the Martian atmosphere by releasing material that could be seen and studied by other Martian spacecraft in orbit and on the ground. Brian Kujawski, Louis Olds and Leslie Hall, from Grand Rapids, Mich., received an honorable mention and $5,000 for their idea to study Martian weather by looking at wind patterns near the planet's surface.
"Challenges like these are an excellent opportunity to collect innovative ideas while engaging the public in NASA's journey to Mars," said James Johnson, a systems engineer at Johnson Space Center and leader of the challenge team. "We applaud the creativity and innovation of our challenge winners."
The Mars Balance Mass Challenge, announced in September 2014 at the World Maker Faire in New York City, sought design ideas for small science and technology payloads that could potentially provide dual purpose as ejectable balance masses on spacecraft entering the Martian atmosphere. The payloads would serve two roles: perform scientific or technology functions that help us learn more about the Red Planet and provide the necessary weight to balance planetary landers.
Submissions to the challenge ranged from analyzing Martian weather or the Martian surface, to demonstrating new technologies such as 3D printing or parachutes, to pre-positioning supplies for future human missions on the planet's surface.
Ground's concept would release trace elements such as barium or strontium during the main spacecraft's entry and decent into the Martian atmosphere, while other spacecraft in orbit and on the surface of the planet observed the patterns made by the tracer elements in the atmosphere. A similar process is used to study Earth's atmosphere by sending sounding rockets along a parabolic path anywhere from 30 to 800 miles above Earth.
The challenge selection team also evaluated a number of concepts using balloon-carried payloads. The best of these was chosen as an honorable mention for its realistic approach to delivering the payloads and for its possible benefit to future human missions to Mars.
All four selectees are new to the world of NASA prizes and challenges but are now eager to work on upcoming NASA challenges.
Friends for the past three years, Kujawski, Olds and Hall share a passion for space and a habit of discussing ideas and projects together. Once Olds found out about the challenge, he spoke with Hall about it. Hall knew immediately that it would interest Kujawski, who has a penchant for turning ideas into realities.
Kujawski said, "I now tell everyone that these sorts of challenges are worth giving a shot – you get an opportunity to learn more about something that you're passionate about, and the satisfaction of coming up with a solution to a tough problem."
Ground, who was inspired to pursue other NASA challenges, agrees. "I think there are lots of skilled, creative and educated citizens that could contribute, to help 'shape' the contents or overall goals of NASA missions, perhaps more closely than they have in the past."
Ground has been self-employed as a technical consultant for the past five years, working on original technical designs for recirculation aquaculture systems as well as business plans and technical operations writing for renewable energy and natural resource companies. Much of his work has to do with aquaculture, aquaponics, water chemistry, filtration and environmental solutions involving water quality. He holds a master's degree in aquatic biology from Texas State University.
The Mars Balance Mass Challenge was managed by the Center of Excellence for Collaborative Innovation. CoECI is a multi-center organization established at the request of the White House Office of Science and Technology Policy to advance NASA's open innovation efforts and extend that expertise to other federal agencies. CoECI is directly supported by the Human Health & Performance Directorate at NASA's Johnson Space Center in Houston. The challenges are being released on the NASA Innovation Pavilion, one of the CoECI platforms available to NASA team members, through its contract with InnoCentive, Inc.
For more information on NASA prizes and challenges, visit:
For more on the NASA Center of Excellence for Collaborative Innovation, visit:
http://www.nasa.gov/offices/COECI/
For more on the Human Health & Performance Directorate, visit:
http://www.nasa.gov/centers/johnson/capabilities/hhp/index.html