NASA Announces Web Coverage of Next Space Shuttle Mission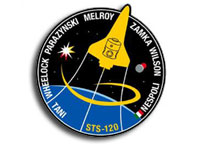 CAPE CANAVERAL, Fla. – A prelaunch webcast, live blogs, podcasts, pictures and videos highlight NASA's Internet coverage of space shuttle Discovery's STS-120 mission to the International Space Station. Discovery is scheduled to lift off on Oct. 23 at 11:38 a.m. EDT. NASA will provide continuous online updates at:
A live webcast featuring STS-112 astronaut Sandra Magnus will start the in-depth coverage of the mission at 11:30 a.m. on Monday, Oct. 22.
A blog will update the countdown beginning about six hours before Discovery's launch. Originating from NASA's Kennedy Space Center, Fla., the blog is the definitive Internet source for prelaunch information.
During the 14-day mission, Discovery's seven astronauts will add a module called Harmony to the International Space Station. The Italian-built segment will become a connecting point for future laboratories built by the European and Japanese space agencies.
Discovery's crew includes astronaut Daniel Tani, who will move into the orbiting laboratory as part of the Expedition 16 crew. He will replace Clayton Anderson, who launched to the station in June and will return to Earth aboard Discovery. Tani will live and work on the station until returning to Earth aboard space shuttle Atlantis on the STS-122 mission, targeted to launch Dec. 6. Visitors to NASA's shuttle Web site can read about the crew's progress and watch the spacewalks live from the space station.
As Discovery's flight concludes, the NASA blog will detail the spacecraft's return to Earth.