NASA Announces Award Recipients for Space Station Research Flight Opportunity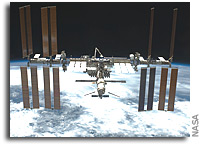 NASA has awarded $500,000 and payload flight opportunities for research and technology development onboard the International Space Station to academic institutions across the U.S. The awards are through NASA's Experimental Program to Stimulate Competitive Research (EPSCoR).
The academic research to be conducted by space station astronauts is in areas important to the agency's missions. These include testing leak detection techniques using ultrasonic sensors arrays, and improving spacewalking suits by incorporating self-healing polymers that are tested against micrometeor impacts. These types of research also help university faculty develop science and technology curricula and support higher education students pursuing studies in science, technology, engineering and math (STEM).
Each of the five winning proposals selected through a merit-based, peer-reviewed competition was awarded $100,000. One proposal was selected from each of the following academic institutions:
– University of Kentucky, Lexington
– Maine Space Grant Consortium, Augusta
– Montana State University, Bozeman
– University of Nebraska, Omaha
– University of Delaware, Newark
EPSCoR is managed by NASA's Office of Education. EPSCoR helps develop partnerships among NASA research missions and programs, academic institutions and industry. It also helps the awardees establish long-term academic research enterprises that will be self-sustaining, competitive and will contribute to their local and state economic viability and development.
For additional information about the 2014 EPSCoR education flight opportunity selectees, visit:
For more information about NASA's education programs, visit: