NASA Announces 2012 Summer Of Innovation Project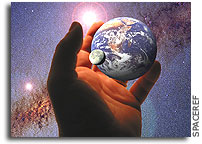 NASA's third annual Summer of Innovation (SOI) project is underway. The project is providing hands-on learning opportunities for middle school students and educators through NASA-unique science, technology, engineering and mathematics (STEM) educational activities during the summer school break. SOI is a key component of the agency's broader education program to increase student interest in STEM courses, particularly among those in underserved sectors of the academic community.
SOI uses NASA's out-of-this-world missions and technology programs to boost interest in STEM among middle school students by offering interactive learning experiences. This year, a major portion of the SOI content focus will be on Curiosity, a NASA flagship science mission currently en route to Mars and scheduled to land Aug. 6.
"NASA always has been fortunate when it comes to offering interesting STEM education content; our missions are compelling and inspiring," said Leland Melvin, associate administrator for NASA Office of Education. "Because Curiosity will reach the Red Planet during SOI 2012, it provides a timely and relevant context for teaching students about planetary science, engineering and technology. Students will get to see much of what they learned unfold as the rover makes its final rendezvous with Mars."
SOI 2012 is multi-faceted and features a variety of engagement activities offered by NASA's 10 centers located across the country. SOS 2012 also will continue several STEM summer programs developed by NASA's national SOI partners during 2010 and 2011.
SOI includes a competitive "mini-grant" component to assist small education and outreach organizations in providing NASA-themed STEM content to middle school students or teachers through existing summer or afterschool programs. NASA plans to announce the mini-grants proposal process and due dates within the coming weeks.
A revamped SOI website will include new products and tools for students and educators to access virtually NASA's educational offerings and resources. It will feature tools to download learning and activity plans and access to current SOI NASA center opportunities, highlights of the 2012 program and SOI contact information.
Another exciting new web feature is a collection of SOI virtual activity plans called "mini-camps." These eight self-contained STEM learning modules offer one-day, two-day and weeklong programs in fields such as rocketry, aeronautics and robotics that easily can be tailored to a variety of audiences.
SOI debuted in 2010 as a three-year pilot program to respond to President Obama's Educate to Innovate campaign. Since its inception, NASA has reached more than 45,000 students; had a presence in 46 states, the District of Columbia and Puerto Rico; and provided professional development opportunities for approximately 5,500 educators.
For more information about the SOI project, visit: http://www.nasa.gov/soi
For more information about NASA's broader education program, visit: http://www.nasa.gov/education