NASA And Space Florida Small Satellite Research Center Partner In Space Launch Challenge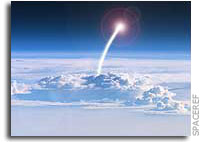 WASHINGTON — NASA has signed an agreement with the Space Florida Small Satellite Research Center of Cape Canaveral, Florida, to manage the Nano-Satellite Launch Challenge, one of the agency's new Centennial Challenges prize competitions.
The Nano-Satellite Launch Challenge is to launch satellites with a mass of at least 2.2 pounds (1 kg) into Earth orbit, twice within the span of one week. The new challenge has a NASA-provided prize purse of $2 million.
The objective of the competition is to encourage innovations in propulsion and other technologies, as well as operations and management relevant to safe, low-cost, small payload delivery system for frequent access to Earth orbit. Innovations stemming from this challenge will be beneficial to broader applications in future launch systems. They may enhance commercial capability for dedicated launches of small satellites at a cost comparable to secondary payload launches — a potential new market with government, commercial, and academic customers.
"Monday's agreement between NASA and Space Florida for use of facilities at the Kennedy Space Center even better positions the organization for managing this new Nano-Satellite Launch Challenge," said Michael Gazarik, director for NASA's Space Technology Program at NASA Headquarters in Washington. "Space Florida has extensive experience working with NASA, the FAA, the Air Force, commercial spaceflight companies and universities to advance their plans for spaceflight operations. We look forward to having the Space Florida Small Satellite Research Center overseeing the competition and bringing together innovative teams with creative problem-solving ideas."
Space Florida submitted a proposal last spring in response to a NASA solicitation for this partnership opportunity. They will now begin detailed preparations for the challenge, publishing rules and then registering competitors. The first competition launch attempt is expected to take place in the summer of 2012.
The Centennial Challenges seek unconventional solutions to problems of interest to NASA and the nation. Competitors have included private companies, student groups and independent inventors working outside the traditional aerospace industry. Unlike contracts or grants, prizes are awarded only after solutions are successfully demonstrated.
NASA's Centennial Challenges program provides the prize purse for the technology and innovation competitions. The competitions are managed by non-profit organizations that cover the cost of operations through commercial or private sponsorships.
In October, NASA awarded the largest prize in aviation history following Pipistrel-USA's win of the agency's CAFE Green Flight Challenge, sponsored by Google. NASA's $1.35 million first prize and a $120,000 second prize recognized competitors using electric airplanes to break all previous fuel efficiency records. The technology and innovation used in electric aircraft may end up in general aviation aircraft, spawning new jobs and new industries for the 21st century.
There have been 22 Centennial Challenges competition events since 2005. NASA has awarded nearly $6 million to 15 different challenge-winning teams. Centennial Challenges is one of the ten Space Technology programs, managed by NASA's Office of the Chief Technologist. For more information about the program and descriptions of each of the challenge competitions, visit: http://www.nasa.gov/challenges
For more information about Space Florida and updates on the Nano-Satellite Launch Challenge, visit: www.spaceflorida.gov/r-d
For more information about NASA's Office of the Chief Technologist, visit: http://www.nasa.gov/oct