NASA and International Space Agencies Meet to Discuss Human and Robotic Space Exploration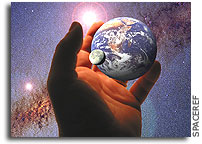 WASHINGTON — NASA senior managers met with their counterparts representing other space agencies at the National Harbor, Md., on June 23, to discuss globally-coordinated human and robotic space exploration.
The meeting participants agreed that significant progress has been made since the joint release of The Global Exploration Strategy (GES) in May 2007. They agreed steps should be taken to coordinate a long-term space exploration vision that is sustainable and affordable.
The meeting included representatives from the Italian Space Agency, the French Centre National d'Etudes Spatiales, China National Space Administration, Canadian Space Agency, German Aerospace Center, European Space Agency, Japan Aerospace Exploration Agency, Korea Aerospace Research Institute, NASA, National Space Agency of Ukraine, Russian Federal Space Agency and the U.K. Space Agency.
The agencies' senior managers welcomed the development of the International Space Exploration Coordination Group's (ISECG) first reference architecture, which is focused on human lunar exploration. They agreed to expand their work to all key exploration destinations and the critical building blocks required to reach those destinations. This "global exploration roadmap" is a key part of an evolving international architecture effort. Senior managers discussed the importance of an early dialogue focused on near-term opportunities for cooperation, such as robotic precursor missions and using the International Space Station as an exploration test bed. There was agreement to hold further strategic discussions at the senior management level to review the progress of ISECG.
The ISECG was established in response to the GES, which stated a shared vision of coordinated human and robotic space exploration focused on solar system destinations where humans may one day live and work. Among the GES findings was the need to establish a voluntary, non-binding international coordination mechanism through which partner agencies could exchange information regarding interests, plans and activities in space exploration. Another goal is to work together on strengthening both individual exploration programs and collective efforts.
For more information on the International Space Exploration Coordination Group, visit: http://www.globalspaceexploration.org
For more information about the International Space Station, visit: http://www.nasa.gov/station
For more information about NASA's exploration missions, visit: http://www.nasa.gov/exploration