NASA And Commerce Present Update On Space Industry Task Force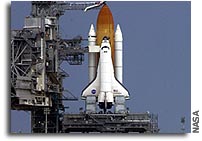 WASHINGTON — NASA Administrator Charles Bolden and Secretary of Commerce Gary Locke will present an update about the Presidential Task Force on Space Industry Work Force and Economic Development at 10 a.m. EDT on Friday, June 4.
The event will be held in the ballroom of the Orlando Airport Hyatt Hotel, Intercontinental Ballroom, Section 5, 9300 Airport Blvd., Orlando, Fla. The event will be carried live on NASA Television and also available on line.
The administration recently launched a $40 million, multi-agency initiative for regional economic growth and to prepare space industry workers for future opportunities. Task force activities will complement local and federal economic and workforce-development efforts.
For NASA TV downlink, schedule and streaming video information, visit: http://www.nasa.gov/ntv
For information about NASA and agency programs, visit: http://www.nasa.gov