NASA Ames to Host Free Lunar Lecture Open to the Public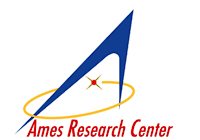 MOFFETT FIELD, Calif. -Author and space historian Andrew Chaikin will discuss lunar exploration and astronomer/artist Jose Francisco Salgado will present a multimedia demonstration entitled, "Communicating Science through Art," on Wednesday, July 21, at 7 p.m. PDT in the tent adjacent to the Ames Conference Center, Building 3.
Chaikin will talk about how our understanding of the moon has been transformed by recent discoveries from NASA's Lunar Crater Observation and Sensing Satellite, Lunar Reconnaissance Orbiter and India's Chandrayaan 1 mission. Chaikin has authored books and articles about space exploration and astronomy for more than 25 years and is best known as the author of "A Man on the Moon: The Voyages of the Apollo Astronauts."
Salgado is an astronomer and science visualizer at the Adler Planetarium in Chicago. Formally trained in Physics and Astronomy, he uses his skills in astronomy education and visual arts to create multimedia works that communicate science in engaging ways.
Advance tickets are required for admission to this free event. Please visit http://lunarscience2010.arc.nasa.gov/lecture-tickets to request your tickets (limit 5 tickets per family).
PLEASE NOTE: Plan to arrive early; once the tent is filled to capacity, the overflow crowd will be seated in Building 3 to view the event via videoconference.
NASA Ames Research Center is a federal facility. A government-issued identification with a photo (such as a driver's license) is required for entry.
This lecture is sponsored by the NASA Lunar Science Institute.
For more information about the NASA Lunar Science Institute, visit: http://lunarscience.nasa.gov/
For more information about NASA Ames Research Center, visit: http://www.nasa.gov/centers/ames/