NASA Ames Hosts Broadcast of Mars Landing Briefing, Local Experts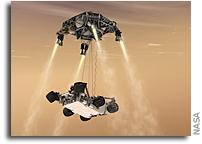 MOFFETT FIELD, Calif. – In addition to viewing a live televised broadcast of a news conference discussing the upcoming August landing of the most advanced robot ever sent to anotherworld, reporters also are invited to interview David Blake, a NASA geologist and principal investigator for the Mars Science Laboratory (MSL) mission.
The news conference will be broadcast live from NASA Headquarters at 10 a.m. PDT on Monday, July 16,2012, and shown in the Syvertson Auditorium, Bldg. N201, at NASA Ames Research Center. Reporters may ask questions from NASA Ames or by phone. To participate by phone, reporters must contact Steve Cole at 202-358-0918 or stephen.e.cole@nasa.gov by 7 a.m. PDT July 16.
Following the news conference, reporters will have an opportunity to interview Blake about theChemistry and Mineralogy (CheMin) instrument that will identify the minerals in samples of powdered rock or soil that the Mars Science Laboratory's robotic arm will deliver to an input funnel. In addition, reporters also will be able to see Blake operate a version of CheMin called Terra, used to analyze soils during geology field work.
MSL will deliver the Curiosity rover to Mars at approximately 10:31 p.m. PDT Aug. 5, 2012. The rover, carrying laboratory instruments to analyze samples of rocks, soil, and atmosphere, will investigate whether Mars has ever offered environmental conditions favorable for microbial life.
Briefing participants will include:
— Doug McCuistion, director, Mars Exploration Program, NASA Headquarters
— Michael Meyer, leadscientist, Mars Exploration Program, NASA Headquarters
— John Grotzinger, MSL project scientist, California Institute of Technology, Pasadena, Calif.
— Pete Theisinger, MSL project manager, Jet Propulsion Laboratory, Pasadena
— Jeff Norris, manager, planning and execution systems, Jet Propulsion Laboratory
Reporters interested in attending the broadcast and asking questions of the scientist at Ames must contact Rachel Hoover at rachel.hoover@nasa.gov by 5 p.m. PDT July 15, 2012.
For NASA TV streaming video, scheduling and downlink information, visit: http://www.nasa.gov/ntv
To view a Jet Propulsion Laboratory live stream with a moderated chat, visit: http://www.ustream.tv/nasajpl
For more information about the mission and to view or submit landing events, visit: http://www.nasa.gov/mars
The public can follow the mission on Facebook and Twitter at: http://www.facebook.com/marscuriosity and http://www.twitter.com/marscuriosity