NASA Admits Wrongdoing In Not Allowing Top Scientist To Discuss Climate Change Research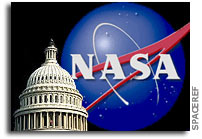 Washington, D.C. – Senators Susan Collins (R-ME) and Joe Lieberman (D-CT) have received written confirmation from the National Aeronautics and Space Administration (NASA) that a media request to interview a top official on his climate change views was wrongly denied. Collins and Lieberman raised concerns with NASA's alleged censorship of scientific views in a letter dated February 15, 2006, following media reports that Goddard Space Flight Center Chief Dr. James Hansen was prevented from fully conveying his findings.
In separate letters to both Senators Collins and Lieberman, a NASA official stated that "an internal inquiry has revealed that one recent media request to interview Dr. James Hansen, of the Goddard Institute for Space Studies, was inappropriately declined." The official went on to note that this action ran contrary to official NASA policy of permitting researchers and scientists to fully and publicly communicate their findings.
The NASA response to the Senators is an important concession that manipulation of scientific statements occurred and recognizes other allegations of inappropriate editing of scientific materials.
"It is of paramount importance that the scientific community, public officials and the general public receive accurate information on scientific studies financed by taxpayer dollars. We rely on NASA and other federally funded research to make critical public policy decisions affecting our health and our environment," said Collins. "Concerted efforts to incorrectly portray scientific data and findings are unacceptable. While this incident is disturbing, I am pleased that NASA is taking steps to prevent similar incidences in the future."
"In the time it took NASA to acknowledge that the censorship of Dr. Hansen was inappropriate, new charges of suppressing climate science have arisen at the National Oceanographic and Atmospheric Administration and the U.S. Forest Service," Lieberman said. "Reports of this disturbing practice have now arisen at four federal agencies: EPA, NASA, NOAA, and the Forest Service. It is time for the White House to stop suppressing important climate change information that the public has a right to know and needs to know."
A copy of NASA's response can be found here: http://lieberman.senate.gov/documents/letters/060606nasaliebermanresponse.pdf
An image of this letter is online here