NASA Administrator Visits Morgan State University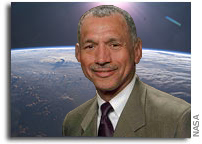 Highlights Importance of Science, Math in Creating Economy That Works for All
NASA Administrator Charles Bolden will visit Morgan State University in Baltimore on Jan. 25 to meet with students in the engineering and science programs, and highlight the importance of science, engineering and mathematics in creating and sustaining the American economy. Bolden's visit will come the day after President Obama delivers his State of the Union speech.
Bolden will visit the Richard N. Dixon Science Research Center School of Computer, Mathematical and Natural Sciences and the Clarence M. Mitchell, Jr. School of Engineering. Morgan State University is one of NASA's University Research Centers, studying next generation aviation safety, aerospace systems engineering and Earth science.
While visiting the Engineering Visualization Research Laboratory, Bolden and Morgan State University President David Wilson will be available to speak with news media at 12:45 p.m. EDT.
Media representatives should call Sarah Ramsey at 202.358.1694 or email her at [email protected] to attend the tour and press event.
Founded in 1867, Morgan State University is one of the nation's historically black colleges and universities. For more information about Morgan State University, visit: http://www.morgan.edu
For information about NASA and agency programs, visit: http://www.nasa.gov