NASA Administrator Participates In Martin Luther King Jr. Day Celebrations In South Carolina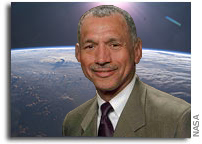 WASHINGTON — NASA Administrator Charles Bolden will travel to his hometown of South Carolina to participate in three events on Jan. 18 to celebrate the life and legacy of Martin Luther King Jr. Media representatives may attend the presentations.
Bolden, NASA's first African-American administrator, will deliver the keynote address at the annual Martin Luther King Jr. business and professional breakfast beginning at 7:30 a.m. EST in the Exhibition Hall, Gaillard Municipal Auditorium, located at 77 Calhoun St. in Charleston. There will be a media availability at approximately 8:50 a.m.
Following the breakfast, Bolden will visit the Ron McNair School at 3795 Spruill Ave. in North Charleston to discuss the importance of science, technology, engineering and mathematics education. Reporters can speak to the administrator following the event at 11:30 a.m. outside the school.
Bolden will deliver the annual Heyward E. McDonald Lecture on Peace and Justice at 7 p.m. in the University of South Carolina Russell House Ballroom A/B on campus at 1400 Greene St. in Columbia. He will speak about the role of science and public schooling in advancing social justice. The lecture will be followed by a short question-and-answer session for attendees.
Administrator Bolden's biography is available at: http://www.nasa.gov/about/highlights/bolden_bio.html
His speech to the business and professional breakfast will be posted at: http://www.nasa.gov/news/speeches/admin/index.html
The administrator's blog is available at: http://blogs.nasa.gov/cm/newui/blog/viewpostlist.jsp?blogname=bolden
For information about NASA and agency programs, visit: http://www.nasa.gov