NASA Administrator Media Availability at Kennedy June 28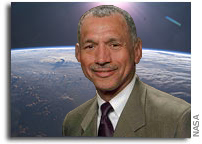 NASA Administrator Charles Bolden will hold a media availability at the Kennedy Space Center Visitor Complex in Florida at 1 p.m. EDT Friday, June 28.
Bolden, Kennedy Center Director Robert Cabana and officials from the state of Florida will discuss NASA's future spaceflight programs and initiatives. These include plans to launch astronauts from Kennedy to
study an asteroid and work with commercial companies to send crew to low Earth orbit and the International Space Station from Florida's Space Coast in the next four years. They also will provide updates
about ongoing progress to transform Kennedy into a multi-user spaceport for both government and commercial clients.
The event will not be broadcast on NASA Television or online. Media interested in participating in the availability and other events at the visitor complex June 28 should contact Nancy Glasgow at
nancy@bitner.com or 407-375-2433.
For information about the Kennedy Space Center Visitor Complex, visit:
http://www.kennedyspacecenter.com
For more information about NASA's missions and programs, visit:
http://www.nasa.gov