NASA Administrator Calls Station Following SpaceX Historic Feat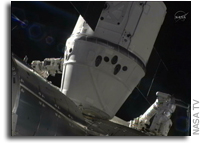 WASHINGTON — NASA Administrator Charles Bolden offered his congratulations to the International Space Station Expedition 31 crew and mission flight control teams at NASA's Johnson Space Center in Houston and SpaceX's headquarters in Hawthorne, Calif., following Friday's successful first-time berthing of a commercial company spacecraft, SpaceX's Dragon, to the space station.
Bolden talked with NASA astronauts Don Pettit and Joe Acaba, and European Space Agency astronaut Andre Kuipers during a call to the space station Friday afternoon live on NASA Television. Bolden told the crew, "You made history today and have firmly locked into place the future direction of America's space program."
To view the call between Bolden and the Expedition 31 astronauts, visit: http://www.youtube.com/watch?v=J3Smw7rz1FU
At 9:56 a.m. EDT Friday, Pettit used the station's robotic arm to grapple Dragon. Kuipers then used the arm to attach the capsule to the station's Harmony node at 11:52 a.m. Acaba completed berthing operations by remotely bolting the Dragon to Harmony at 12:02 p.m. The crew members spent the rest of their day preparing to open the hatches between the two spacecraft on Saturday morning.
The SpaceX demonstration mission to the space station is the second under NASA's Commercial Orbital Transportation Services program, which provides investments intended to lead to regular resupply missions to the station and stimulate the commercial space industry in the United States.
For more information about the SpaceX mission to the space station, visit: http://www.nasa.gov/spacex
For information about the International Space Station and the Expedition 31 crew, visit: http://www.nasa.gov/station