NASA Administrator Bolden and Senator Vitter See Space Launch System Progress in New Orleans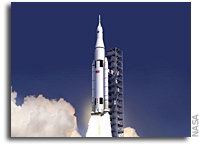 NASA Administrator Charles Bolden and Sen. David Vitter of Louisiana will visit the agency's Michoud Assembly Facility in New Orleans, La., Monday, Jan. 13. They will be updated on construction of the facility that will manufacture the massive core stage of NASA's Space Launch System (SLS) heavy-lift rocket and progress on launching it on its targeted first flight test in 2017.
SLS will be the world's largest rocket, and the Michoud Vertical Assembly Center will be home to one of the world's largest welding tools when the facility is completed in March.
Bolden, Vitter, Michoud Director Roy Malone and SLS Program Manager Todd May will be available to speak with media at 10 a.m. CST.
NASA is developing the SLS and Orion spacecraft to provide an entirely new capability for human exploration. They will expand human presence beyond low-Earth orbit and enable new missions of exploration in the solar system, including to an asteroid and Mars.
Media who want to attend should contact Chip Howat at carl.j.howat@nasa.gov or 504-214-6745 no later than 4 p.m. Sunday, Jan. 12.
Journalists must report to 13800 Old Gentilly Road and enter Gate 11, which is located east of Building 101, by 9:30 a.m. Jan. 13 for access to the facility. Official media credentials with photo identification are required for access.
For more information on SLS, visit: