NASA Administrator Bolden and SBA Administrator Mills "Hangout" with Curiosity Small Business ATA Engineering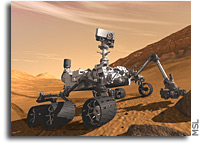 NASA Administrator Charlie Bolden and Small Business Administration Administrator Karen Mills highlighted the contributions of small businesses to the success of the Curiosity rover's landing on Mars during a Google+ Hangout Wednesday with ATA Engineering, headquartered in Herndon, Va.
ATA Engineering partnered with NASA's Jet Propulsion Laboratory (JPL) team to test and analyze the entry, descent and landing of the rover, specifically the wheels, actuators and thermal control systems.
"The dedicated and mission-focused work of our small business partners like ATA Engineering has been essential to Curiosity's ongoing success story, and I'm especially proud of NASA's work with them," Bolden said. "Curiosity is the largest rover that ever has been sent to another planet and will provide invaluable data regarding Mars that will benefit the scientific community for years to come. Small businesses helped support the design and fabrication of Curiosity and also took part in many other activities that made the mission possible."
Mills praised ATA Engineering and the many other small businesses that contributed to last month's successful Curiosity landing and contribute to NASA's other science and exploration missions.
"ATA Engineering and the many other small businesses involved in the Mars Science Laboratory project embody the entrepreneurial spirit, drive and ability of America's small businesses to build groundbreaking tools and parts that help make even the most sophisticated projects successful," Mills said. "This mission is a shining example of what is possible when America's small businesses are given the chance to do what they do best."
ATA Engineering worked with the JPL Curiosity team for six years to assist in the development of cutting-edge technologies that led to the Curiosity landing, as well as the tools aboard the rover that will help scientists investigate whether conditions on Mars may have been favorable for microbial life.
"As a 100 percent employee-owned small business, the staff at ATA Engineering is incredibly proud to have been part of the development team for Curiosity," said Mary Baker, president of ATA Engineering. "Over the course of six years, we have had the unique opportunity to work closely with the talented engineers and scientists at NASA JPL to help drive and validate the design of a number of key subsystems on one of the most exciting robotics development programs in history. Not only do programs like this give small businesses such as ours the opportunity to contribute directly to the development and advancement of state-of-the-art technology, they act as an inspiration to the next generation of engineers and scientists."
NASA exceeded its small business goal for fiscal year 2011 and was one of only three of the "big seven" Federal agencies — the ones that together spend approximately 90 percent of small business-eligible dollars — that exceeded its small business goals. Approximately $2.5 billion in prime contracts were awarded directly to small businesses in 2011, up about $75 million from the previous year. NASA's large prime contractors awarded approximately $2 billion in additional subcontracts to small businesses in fiscal year 2011.
NASA also released "Curiosity and NASA's Mission to Mars," a publication that details the contributions of small businesses across the country which contributed to the mission. To read the document, visit NASA's Office of Small Business Programs at: http://osbp.nasa.gov
For information about the Small Business Administration, visit: http://www.sba.gov
For more about Curiosity, visit: http://www.nasa.gov/msl and http://mars.jpl.nasa.gov/msl