Media Invited to Participate in Interactive Space Station Technology Forum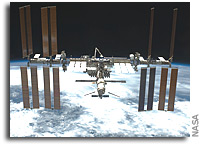 Media are invited to interact with NASA experts who will answer questions about technologies being demonstrated on the International Space Station (ISS) during "Destination Station: ISS Technology Forum" from 10 to 11 a.m. EDT (9 to 10 a.m. CDT) Monday, Oct. 27, at the U.S. Space & Rocket Center in Huntsville, Alabama.
The forum will be broadcast live on NASA Television and the agency's website.
The Destination Station forums are a series of live, interactive panel discussions about the space station. This is the second in the series, and it will feature a discussion on how technologies are tested aboard the orbiting laboratory. Thousands of investigations have been performed on the space station, and although they provide benefits to people on Earth, they also prepare NASA to send humans farther into the solar system than ever before.
Participants must be seated by 8:30 a.m. CDT in the Davidson Center for Space Exploration theater at the Space & Rocket Center – the official visitor information center for NASA's Marshall Space Flight Center.
Forum panelists and exhibits will focus on space station environmental and life support systems; 3-D printing; Space Communications and Navigation (SCaN) systems; and Synchronized Position Hold, Engage, Reorient, Experimental Satellites (SPHERES).
The forum's panelists are:
– Jeffrey Sheehy, senior technologist in NASA's Space Technology Mission Directorate
– Robyn Gatens, manager for space station System and Technology Demonstration, and Environmental Control Life Support System expert
– Jose Benavides, SPHERES chief engineer
– Rich Reinhardt, principal investigator for the SCaN Testbed
– Niki Werkeiser, project manager for the space station 3-D printer
During the forum, questions will be taken from the audience, including media, students and social media participants. Online followers may submit questions via social media using the hashtag, #asknasa. Panelists will be available for media interviews immediately following the forum.
The "Destination Station: ISS Technology Forum" coincides with the 7th Annual Von Braun Memorial Symposium at the University of Alabama in Huntsville Oct. 27-29. Media can attend the three-day symposium, which features NASA officials, including NASA Administrator Charles Bolden, Associate Administrator for Human Exploration and Operation William Gerstenmaier and Assistant Deputy Associate Administrator for Exploration Systems Development Bill Hill. Jean-Jacques Dordain, director general of the European Space Agency, will be a special guest speaker. Representatives from industry and academia also will be participating.
Media who attend the forum will have the opportunity to sign up for Marshall's Oct. 27 media day, which includes extensive tours of the center's labs and facilities immediately following the forum. Interview opportunities with NASA managers, scientists and engineers also will be available. Media interested in visiting the center for media day should contact Jennifer Stanfield in the Marshall Public and Employee Communications Office at 256-544-0034 orjennifer.stanfield@nasa.gov by 4 p.m. Oct. 21.
Media who wish to attend just the Destination Station forum should contact the Marshall Space Flight Center newsroom at 256-544-0034 no later than noon Oct. 24. Media unable to attend can participate by phone by contacting the newsroom no later than 8:45 a.m.
For NASA TV streaming video, scheduling and downlink information, visit:
For more information on the International Space Station and its crews, visit:
For video and other media resources, visit:
http://www.nasa.gov/stationnews