Media Advisory: A Second Canadian Instrument on Mars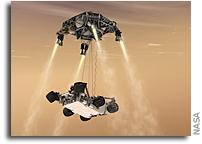 NASA's rover Curiosity is fast approaching the Red Planet with a scientific instrument provided by the Canadian Space Agency (CSA) on board. The landing is scheduled for August 6 at 1:31 a.m. Eastern (August 5, 10:31 p.m. PDT).
Curiosity will study whether the Gale Crater area of Mars has evidence of past and present habitable environments. The Canadian instrument will enable the rover to determine the chemical composition of the rocks and soil on Mars.
Media are invited to view Curiosity's landing at the CSA with commentary from host Stephane Desjardins, Director of Space Exploration Projects. The event will be webcasted live on the Canadian Space Agency's website: www.asc-csa.gc.ca. The event will also be attended by 20 tweeters from Canada and the United States who will be micro-blogging from the CSA (hashtag: #CSATweetup).
DATE: Monday, Aug. 6 EDT (Sunday, Aug. 6 for PDT)
TIME: 1:00 a.m. EDT (10:00 p.m. PDT)
WHAT: Curiosity landing (live footage of the JPL control room on NASA TV)
WHO: Stephane Desjardins, Director, Space Exploration Projects
WHERE: Canadian Space Agency
6767 Route de l'Aeroport
Longueuil, Quebec
The CSA's Dr Victoria Hipkin, Senior Program Scientist, Planetary Exploration, and Dr Richard Leveille, Planetary Scientist, will be at the NASA's Jet Propulsion Lab for the landing. They recorded the following videos of their impressions prior to departure:
Dr Hipkin:
http://www.youtube.com/watch?v=aOEmmY7H1dg&list=UUdNtqpHlU1pCaVy2wlzxHKQ&index=1&feature=plpp_video
Dr Leveille:
http://www.youtube.com/watch?v=j2YmxFXgjhY&list=PL277B528A75882F6E&index=2&feature=plpp_video
For a preview of the landing:
http://www.youtube.com/watch?v=ISmWAyQxqqs
For more information on the mission: http://www.asc-csa.gc.ca/eng/astronomy/mars/apxs.asp
Follow us on :
RSS: http://www.asc-csa.gc.ca/rss/default_eng.xml
Facebook: https://www.facebook.com/pages/Canadian-Space-Agency/150629121625960
YouTube: http://www.youtube.com/user/Canadianspaceagency
Twitter: http://twitter.com/csa_asc
Contact:
Canadian Space Agency
Media Relations Office
450-926-4370
media@asc-csa.gc.ca
www.asc-csa.gc.ca