Mars Rover Curiosity's Team to Receive Space Foundation Award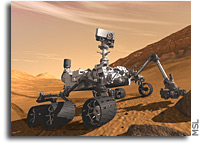 PASADENA, Calif. — The NASA mission that had the nation holding its breath as it tested an ingenious but never-before-used landing technique, and continues to amaze with new discoveries about Mars has been selected as the 2013 recipient of the Space Foundation's John L. "Jack" Swigert, Jr., Award for Space Exploration.
NASA's Mars Science Laboratory project is using the rover Curiosity to investigate whether the study area within Gale Crater has offered environmental conditions favorable for microbial life.
"We are recognizing the NASA Mars Science Laboratory mission team for its aggressive and technologically advanced exploration of another planet," said Space Foundation Chief Executive Officer Elliot Pulham. "This incredible mission will yield valuable science about conditions on Mars and enable critical technologies for future missions."
The award is given annually to the person or organization that has made the most significant accomplishment in advancing the exploration of space during the previous year. It will be presented April 8 during the opening ceremony of the 29th National Space Symposium at The Broadmoor Hotel in Colorado Springs, Colo.
The John L. "Jack" Swigert, Jr., Award for Space Exploration honors NASA Apollo astronaut Jack Swigert. The Space Foundation, founded in 1983 in part to honor Swigert's memory, created the Swigert Award in 2004 in tribute to his lasting legacy of space exploration. Previous recipients include NASA's Phoenix Mars Lander Team, the Japan Aerospace Exploration Agency, the California Institute of Technology, NASA's Jet Propulsion Laboratory, NASA's Mars Exploration Rover team from JPL, President George W. Bush, the LCROSS mission and, in 2012, NASA's Kepler Mission.
JPL, a division of Caltech in Pasadena, manages the Mars Science Laboratory for the NASA Science Mission Directorate, Washington. For more information about the mission, visit: http://www.jpl.nasa.gov/msl , http://www.nasa.gov/msl and http://mars.jpl.nasa.gov/msl .