Mars Rover Curiosity: Designing the Largest And Most Advanced Space Exploration Robot Ever Made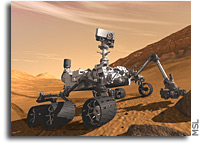 Space Exploration is once again rising to the top of the American consciousness with the successful launch of Space-X and the upcoming Mars Landing. NASA'S one-ton, hyper-sophisticated, car-sized Mars Rover Curiosity blasted off from Cape Canaveral on November 26th, 2011 and is travelling millions of miles through space. On August 5th, 2012, Curiosity is slated to go from the vacuum of outer space to the surface of the Red Planet in just seven minutes, a period NASA has dubbed "7 Minutes of Terror." Upon landing, the Rover will begin its actual mission to move around the surface and explore for signs of life.
See video from Siemens Corporation at: http://inr.synapticdigital.com/Siemens/MarsRover
This package will show and tell how Curiosity, the largest and most complex space exploration robot ever constructed, was "virtually" designed, simulated and built before it was physically created. Specifically, it will highlight the role Siemens Product Lifecycle Management (PLM) software played in helping engineers at NASA'S Jet Propulsion Labs (JPL) design the vehicle – from the initial concept to simulations of the harsh space environment.
It will also show and tell how PLM software is helping engineers make "all sorts of things" go far and fast in an increasingly cost conscious environment. The latest spacecraft can go from 13,000 mph to 0 mph in seven minutes, withstand temperatures of -135 to 1500 degrees Celsius, and travel in orbit for 8 1/2 months.
Registered journalists can access video, audio, text, graphics and photos at http://www.thenewsmarket.com.
Contact:
Synaptic Digital, New York
mediadesk@synapticdigital.com
08NY12-0646