Mars is the Focus of the Lunar and Planetary Conference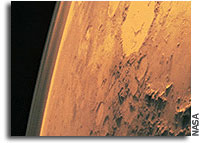 With robotic missions to Mars and recently announced plans to send humans back to the Moon and to Mars stirring special excitement, hundreds of leading scientists from around the world will meet in Houston next week for the 35th Lunar and Planetary Science Conference.
The conference will be held March 15-19 at the South Shore Harbour Resort & Conference Center in League City, Texas.
"This annual conference began during the Apollo moon landings as a method of disseminating the information gained from those and other planetary missions," said conference co-chair Eileen Stansbery, assistant director, Office of Astromaterials Research and Exploration Science at Johnson Space Center. "The events that have unfolded in the last few months, the recently announced goals by the President for human exploration of the solar system, the Stardust flyby of comet Wild 2 and the amazing findings on Mars by the two rovers, make this year's conference especially timely."
A preliminary program and abstracts are available on the Web at:
http://www.lpi.usra.edu/meetings/lpsc2004/pdf/program.pdf
More information about conference events and registration forms can be found on the Web at:
http://www.lpi.usra.edu/meetings/lpsc2004/lpsc2004.3rd.html
The 2004 conference is sponsored by NASA, Johnson Space Center and the Lunar and Planetary Institute.