Major Galileo contracts signed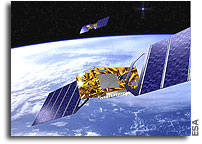 Yesterday, Mr Rene Oosterlinck, ESA's Director of the Galileo Programme and Navigation-related Activities, signed the first three contracts for the Galileo full operational capability phase. This event marks the start of building the Galileo operational infrastructure.
The signing ceremony took place at ESA's European Space Research and Technology Centre at Noordwijk (The Netherlands) in the presence of Mr Matthias Ruete, Director General 'Energy and Transport' of the European Commission (EC) and Mr Jean-Jacques Dordain, ESA's Director General. These contracts cover system, satellites and launch activities.
The contract signed with Thales Alenia Space (Italy) covers the industrial system support activities provided to ESA as Galileo system prime: system engineering, system performance, system assembly, integration and validation, signal-in-space engineering, security engineering and product assurance.
For the space segment, and following the signature of framework contracts with OHB-System AG (Germany) and EADS at the end of 2009, the first work order signed with OHB covers the manufacture of 14 satellites, with delivery of the first satellite in July 2012, followed by two satellites every three months.
As prime contractor, OHB teamed up with Surrey Satellite Technology Limited (SSTL; UK). OHB will lead the system level activities and is responsible for the spacecraft platform. SSTL is responsible for the satellite payload.
For launch services, the contract covers the provision by Arianespace of five Soyuz launchers with an upgraded Fregat upper stage, to be launched from Europe's Spaceport in French Guiana, each placing two satellites in their final orbit.
Following the announcement on 7 January by Mr Antonio Tajani, EC Vice-President in Charge of Transport, of the award of these contracts, the signature of the contracts by ESA – acting for the first time on behalf of the Commission – is an important step towards the deployment of Galileo and marks a major milestone in the cooperation between the EC and ESA.