Lunar Racing Championship Is One Small Step for man – One Giant Leap for Gamers (with screen shots)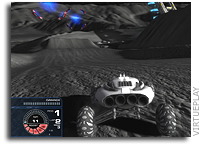 Anniversary of NASA's Moon Landing Marks Racing Simulation's Giant Step Closer to Release
LOS ANGELES – July 21, 2009 – As the entire world celebrates the 40th anniversary of humankinds' first steps on the moon, gamers will soon have the chance to race other players on the moon's surface in their very own lunar racers. VirtuePlay, producer of positive and responsible interactive entertainment for children and adults, today revealed Lunar Racing Championship, a multi-player online racing simulation game set on the surface of the moon, will be coming to PC gamers everywhere this Fall. Using NASA's actual topographical and environmental data from the moon, Lunar Racing Championship provides a scientifically realistic accurate experience combined with the fun of a multi-player racing videogame in what VirtuePlay is terming "NASA meets NASCAR."
"Lunar Racing Championship is an industry-changing look at gaming," said Mary T. Duda, CEO and president, VirtuePlay. "Not only is it a realistic depiction of the elements involved with a ride on the moon, the game maintains a positive, educational gaming experience as players will see the actual topography from NASA recreated in striking detail. For those who want to experience space, but can't travel there – yet – we give them the moon."
Lunar Racing Championship incorporates high-resolution, infrared photos of the moon and other data from NASA's Clementine satellite. Players compete on virtual racetracks that project ultraviolet images onto lunar speedways. VirtuePlay also synthesized and hand-created detailed maps from areas such as the Apollo landing site and the poles of the moon to make this title an immersive experience.
At the core of Lunar Racing Championship is the RADE engine, proprietary game technology developed by VirtuePlay's sister company, VirtueSoft. RADE allows VirtuePlay to accurately simulate rigid bodies on the lunar surface, and its Reaction Control System will give users the ability to maintain control of their lunar racers in the moon's unique gravitational pull.
Lunar Racing Championship will be available in Fall 2009 for PC and soon after as a coin-operated arcade game. For more information, please visit www.virtueplay.com.
About VirtuePlay, Inc.
Founded in 2003 and headquartered in Los Angeles, VirtuePlay, Inc. is developing the next generation of video games for entertainment with the aim of promoting exploration, adventure, and education through virtual experiences that are entertaining and engaging. VirtuePlay is implementing this vision with the extreme software capabilities of VirtueSoft, its sister company. More information can be found at the company's website, http://www.virtueplay.com.
###
All trademarks are the property of their respective owners.