Loral-Built MTSAT-1R Multi-Functional Satellite Succesfully Launched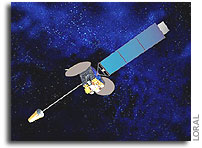 MTSAT-1R, built by
Space Systems/Loral (SS/L) for the Japanese Civil Aviation Bureau (JCAB) and
Japanese Meteorological Agency (JMA), was successfully launched today at 1:25
am PST. The satellite, a state-of-the-art, multi-functional, weather
monitoring and air traffic control satellite, was sent into space aboard an
H-IIA rocket from Japan's space center in Tanegashima, Japan.
From its geosynchronous orbital position at 140 degrees East longitude,
MTSAT-1R will combine aeronautical services and a meteorological payload on
one satellite. The satellite will provide meteorological and ATM services for
users throughout the entire Asia-Pacific region — as far south as Australia
and New Zealand. The satellite's meteorological payload will enter service in
the second quarter of 2005 and the ATM services will be offered in early 2006.
JCAB will use MTSAT-1R L-band mobile links to provide communications and
navigational services for aircraft, increasing the efficiency of aircraft
flight routes, providing flexible flight profile planning, enhancing air
travel safety and improving the quality of aeronautical communications.
For JMA, MTSAT-1R will gather critical weather information for users
throughout the Asia-Pacific region, broadcasting cloud imagery and continuous
weather data, including cloud and water vapor distributions, cloud-motion wind
vector, sea surface temperature, and information on typhoons and other severe
weather conditions.
MTSAT-1R is a version of SS/L's space-proven, three-axis, body-stabilized
1300 bus. SS/L's satellites are designed to achieve long, useful, orbital life
through use of bi-propellant propulsion and momentum-bias systems for
excellent stationkeeping and orbital stability. A system of high-efficiency
solar arrays and lightweight batteries provide uninterrupted electrical power.
SS/L satellites have amassed more than 1100 years of reliable on-orbit
service.
MTSAT-1R uses many of the same technologies developed for the most
recently deployed U.S. Geostationary Operational Environmental Satellite
program, GOES, for which SS/L was the prime contractor. SS/L has manufactured
five GOES satellites (I-M) under contract to the National Aeronautics and
Space Administration (NASA) for delivery to the National Oceanic and
Atmospheric Administration (NOAA) for operations.
Space Systems/Loral, a subsidiary of Loral Space & Communications
, is a premier designer, manufacturer, and
integrator of powerful satellites and satellite systems. SS/L also provides a
range of related services that include mission control operations and
procurement of launch services. Based in Palo Alto, Calif., the company has
an international base of commercial and governmental customers whose
applications include broadband digital communications, direct-to-home
broadcast, defense communications, environmental monitoring, and air traffic
control. SS/L satellites have amassed more than 1,100 years of reliable
on-orbit service. SS/L is ISO 9001:2000 certified. For more information,
visit the Space Systems/Loral web site at http://www.ssloral.com.
Loral Space & Communications is a satellite communications company. In
addition to Space Systems/Loral, through its Skynet subsidiary Loral owns and
operates a fleet of telecommunications satellites used to broadcast video
entertainment programming, and for broadband data transmission, Internet
services and other value-added communications services. For more information,
visit Loral's web site at http://www.loral.com.
This document contains forward-looking statements within the meaning of
Section 27A of the Securities Act of 1933, as amended, and Section 21E of the
Securities Exchange Act of 1934, as amended. In addition, Loral Space &
Communications Ltd. or its representatives have made or may make
forward-looking statements, orally or in writing, which may be included in,
but are not limited to, various filings made by the company with the
Securities and Exchange Commission, press releases or oral statements made
with the approval of an authorized executive officer of the company. Actual
results could differ materially from those projected or suggested in any
forward-looking statements as a result of a wide variety of factors and
conditions. These factors include those related to the filing, on July 15,
2003 by Loral and certain of its subsidiaries, of voluntary petitions for
reorganization under chapter 11 of title 11 of the United States Code in the
United States District Court for the Southern District of New York and
parallel insolvency proceedings in the Supreme Court of Bermuda in which
certain partners of KPMG were appointed as joint provisional liquidators.
Additional factors and conditions are also described in the section of the
company's annual report on Form 10-K for the fiscal year ended December 31,
2003, entitled "Commitments and Contingencies," and the company's other
filings with the Securities and Exchange Commission. The reader is
specifically referred to these documents.