Lockheed Martin Renews Support for Spirit of Innovation Challenge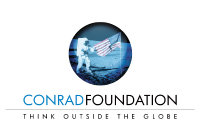 Nancy Conrad, founder and chairman of the Conrad Foundation, announced today that the Lockheed Martin Corporation renewed its support as a Spirit of Innovation Challenge Corporate Partner. This is the third year the company will champion the aerospace & aviation category of the annual innovation competition.
The Spirit of Innovation Challenge invites teams of high school students from around the world to use their science, technology, engineering and math (STEM) skills to develop commercially viable products and services to address issues of global sustainability for the benefit of humanity. The Spirit of Innovation Challenge offers teachers, parents and afterschool coordinators a relevant and dynamic way to teach STEM. Supporting the teams' efforts are world-renowned scientists, engineers, and entrepreneurs who work with the students as virtual mentors.
"We want to inspire students to take theoretical learning from the classroom and apply this knowledge to hands-on experimentation," said Dr. Ray O. Johnson, Lockheed Martin senior vice president and chief technology officer. "Our company's 100-year legacy of innovation is reflected in the principles of the Conrad Foundation. We are proud to work with this organization and these students who represent the bright future of our nation's workforce."
The 2012-2013 Spirit of Innovation Challenge launched in September 2012, and student teams are currently working through the semi-final stage of the competition. Examples of this year's aerospace & aviation innovations include: a software program that assists aerial fire-fighting vehicles in combating wildfires; an adaptive leading edge droop for light sport aircraft; and a multi-layered, flexible shielding for space exploration vehicles, space stations, and planetary bases. Additionally, teams are tackling issues such as space debris mitigation, stealth reconnaissance hovercraft, and unmanned aerial vehicle innovation.
This year's finalist teams will be selected in February and will meet in April 2013 at NASA Johnson Space Center in Houston for the annual Innovation Summit and the selection of the Pete Conrad Scholars. Winning teams in each category receive $10,000 in next-step grants to develop their products and services.
Visit www.conradawards.org to obtain the latest information on the competition, registration deadlines, and more.
About the Conrad Foundation
The Conrad Foundation is a not-for-profit organization dedicated to 21st century, immersive learning, where students use their imagination and innovation to enrich their classroom studies by adding context to content. The Foundation is the only organization of its kind whose programs combine education, innovation and entrepreneurship to inspire solutions for achieving global sustainability. For more information, visit www.conradfoundation.org.
About Lockheed Martin
Headquartered in Bethesda, Md., Lockheed Martin is a global security and aerospace company that employs about 120,000 people worldwide and is principally engaged in the research, design, development, manufacture and integration and sustainment of advanced technology systems, products and services. The corporation's net sales for 2011 were $46.5 billion.
Media Contact:
Carrie Taylor
Conrad Foundation
Carrie.taylor@conradawards.org
281-245-3361