Kucinich Rallies Ohio Delegates to Fight for NASA Glenn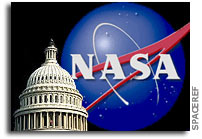 Washington D.C. (July 20, 2010) – Congressman Dennis Kucinich (D-OH) today rallied Members of the Ohio Delegation to send a bipartisan letter to the Science and Technology Committee requesting funding for vital research and development programs that benefit NASA Glenn Research Center and the nation's human space flight program.
The letter asks the Committee to support aspects of President Obama's Fiscal Year 2011 NASA budget request that diversify programs and projects at NASA Glenn Research Center and ensure the Center's long term health. The letter also asks the Committee to oppose provisions that could compromise NASA's civil-servant workforce and asks for an extension of a ban on involuntary layoffs.
The letter was signed by Representatives Dennis J. Kucinich (D-OH), Marcy Kaptur (D-OH), Steven LaTourette (R-OH), Tim Ryan (D-OH), John Boccieri (D-OH) and Betty Sutton (D-OH).
Read the full letter here.