Kosmas to Meet with Local Officials to Discuss Space Coast Economic Development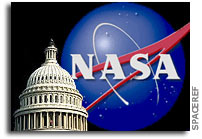 (Rockledge, FL) – TOMORROW, Saturday, July 10, from 10:30 a.m. to 11:30 a.m., Congresswoman Suzanne Kosmas (FL-24) will meet with Space Florida President Frank DiBello and a panel of local economic officials to discuss ideas to be presented to the Presidential Task Force on Space Industry Workforce and Economic Development. The panel will discuss ways to diversify Central Florida's workforce and spur job creation in an effort to mitigate the job loss expected from the Shuttle retirement. Kosmas is working to ensure that the task force incorporates the community's ideas and that the plan being developed accurately reflects the needs of the Space Coast.
Earlier this year, President Obama established the Task Force on Space Industry Workforce and Economic Development, which is co-chaired by Secretary of Commerce Gary Locke and NASA Administrator Charles Bolden. The Taskforce is charged with developing, in collaboration with local stakeholders, an interagency action plan to enhance economic development strategies and plans along the Space Coast and affected aerospace communities.
Congresswoman Kosmas' has been focused on efforts to support, preserve, and maximize the Space Coast's highly skilled workforce. In addition to introducing legislation to minimize the spaceflight gap and maintain a robust human spaceflight program, Kosmas has passed multiple amendments to assist local high-tech small businesses, encouraged the Department of Defense to bring new work to the Space Coast, and secured millions in funding for the Brevard Workforce Development Board to assist aerospace workers affected by Shuttle retirement.
WHO: Congresswoman Suzanne Kosmas (FL-24)
Frank DiBello, President, Space Florida
Lynda Weatherman, President & CEO, Space Coast EDC
Lisa Rice, President, Brevard Workforce
Dale Ketcham
WHAT: Economic Development Meeting with Local Economic Officials
WHEN: Saturday, July 10, 2010 10:30 a.m. – 11:30 a.m.
WHERE: Brevard Workforce
597 Haverty Court, Suite 40
Rockledge, FL