Kentucky Students to Speak with Space Station's Tom Marshburn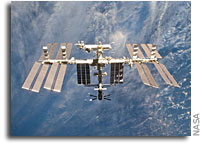 Students of all ages, educators and pre-service teachers will gather at Eastern Kentucky University to speak with International Space Station astronaut Tom Marshburn on Friday, Jan. 11. The long-distance conversation is scheduled to begin at 9:45 a.m. EST and can be seen live on NASA Television and the agency's website.
Students will ask Marshburn, a member of the space station's Expedition 34 crew, about his experiences living, working and conducting research aboard the orbiting laboratory. He arrived at the station last month to begin a six-month stay.
Media representatives interested in attending the event should contact Marc Whitt at marc.whitt@eku.edu or 859-200-6976. Eastern Kentucky University is located at 521 Lancaster Avenue in Richmond.
In anticipation of the downlink conversation with Marshburn, educators have been preparing students by incorporating NASA activities into the classroom, creating awareness about the station, and encouraging students to pursue careers in science, technology, engineering and mathematics, or STEM.
This in-flight education downlink is one in a series with educational organizations in the United States and abroad to improve teaching and learning. It is an integral component of NASA's Teaching from Space education program, which promotes learning opportunities and builds partnerships with the education community using the unique environment of space and NASA's human spaceflight program.
The exact time of the event could change because of real-time operational activities. For NASA TV downlink, schedule and streaming video information, visit: http://www.nasa.gov/ntv
For information about NASA's education programs, visit: http://www.nasa.gov/education
For information about the International Space Station, visit: http://www.nasa.gov/station