Interviews Set With NASA's Stephanie Wilson of Next Shuttle Crew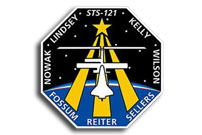 Massachusetts native and Harvard graduate Stephanie Wilson, the astronaut who will operate the robotic arm during the next space shuttle flight, is available for satellite interviews from 5 p.m. to 7 p.m. EDT Tuesday, April 4.
To participate, media should contact NASA's Johnson Space Center newsroom at (281) 483-5111, no later than 11 a.m. EDT April 4. Wilson's interviews will be carried live on the NASA TV analog satellite AMC-6, at 72 degrees west longitude, transponder 5C, 3800 MHz, vertical polarization, with audio at 6.8 MHz.
Born in Boston, Wilson graduated from high school in Pittsfield, Mass. She earned a bachelor's degree in engineering science from Harvard University, Cambridge, Mass. Wilson received a master's in aerospace engineering from the University of Texas in Austin. She began her NASA career at the agency's Jet Propulsion Laboratory, Pasadena, Calif., working with the team operating the Galileo spacecraft, which explored Jupiter. She was selected as an astronaut in 1996.
Space Shuttle Discovery's mission to the International Space Station, designated STS-121, will be Wilson's first space flight. During the mission, she will operate the shuttle's and station's robotic arms to support assembly tasks and spacewalks. Discovery is targeted for launch no earlier than July 1. The mission will continue the evaluation of flight safety procedures, including shuttle inspection and repair techniques.
Wilson will fly with Commander Steve Lindsey, pilot Mark Kelly and mission specialists Piers Sellers, Mike Fossum and Lisa Nowak. European Space Agency astronaut Thomas Reiter is also part of the crew and will remain on the station for several months.
For information about the STS-121 mission on the Web, visit:
For more information about Wilson, visit the NASA astronaut biography Web site:
For information about NASA and agency programs on the Web, visit: