International Symposium for Personal and Commercial Spaceflight Opens Registration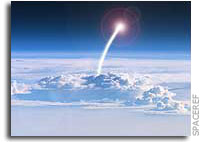 Top industry leaders aim to transition demand and direction of commercial spaceflight
LAS CRUCES, N.M. -The 2012 International Symposium for Personal and Commercial Spaceflight (ISPCS), the most relevant, high-value global space conference of the year, opens its registration today. Taking place Oct. 17-18 in Las Cruces, N.M., the event will bring together more than 450 people from across the space community, including thought leaders from private industry, government and academia, to collaborate on key issues and trends to help grow the industry and increase demand for commercial spaceflight. The event will also showcase cutting-edge technologies and emerging commercial applications for military, scientific and personal spaceflight.
"There is no event quite like ISPCS, where high-profile industry players explore complex topics before an intimate, captive audience eager to expand their knowledge and participate in vibrant dialogue," said Patricia Hynes, Ph.D., chair of ISPCS. "Over the years, we have built a close-knit community of thought leaders, researchers, entrepreneurs, astronauts, space industry workers and more who make this event a top priority in their busy schedules. This year's ISPCS is truly going to be an event not to miss."
ISPCS 2012 is themed "Commercial Spaceflight: The Demand-The Direction." The event will feature 12 sessions, including keynote addresses from Roger Krone, president of network and space systems for The Boeing Company and NASA Deputy Administrator Lori Garver.
In addition, more than 30 noted speakers will dive head first into compelling subjects surrounding commercial spaceflight, such as:
– How suborbital flight experiences can optimize future orbital mission success
– NASA's Commercial Crew integrated Capability (CCiCap) initiative and the valuable impact of public/private partnerships on commercial space transportation
– Protecting supply and demand for commercial spaceflight through cyber solutions
Some of the prestigious speakers and panelists confirmed for ISPCS 2012 include:
– Brigadier General Jim Jaeger (ret.) – Director, Commercial Cyber Systems, General Dynamics Advanced Information Systems
– Dave Mackay, chief pilot for Virgin Galactic
– Major General Robert Dickman (ret.) – Executive Director. American Institute of Aeronautics and Astronautics
Register online at http://www.ispcs.com/registration_2012.php. Early bird registration is available now through September 14, 2012, allowing attendees to save $200 on full conference registration. This year's registration process is also more personalized, designed to connect like-minded ISPCS attendees in order to spur partnerships and collaborations.
Sponsorships and exhibitor packages are still available.
About ISPCS
The International Symposium for Personal and Commercial Spaceflight (ISPCS) is the most relevant, high-value global space conference. The annual event is designed to grow the industry and increase demand for commercial space. It features a compelling, timely agenda, where prominent industry thought leaders and decision-makers dialogue and collaborate on key issues and trends. It also showcases industry-applied technologies and their potential impact to a wide spectrum of beneficiaries – from the military and investors to scientists and space tourists. ISPCS is organized by the New Mexico Space Grant Consortium. For more information, visit www.ispcs.com.
# # #
MEDIA CONTACT
Sean Wilson & Jessica Ballard
Griffin Communications Group
(281) 335-0200
sean@GriffinCG.com; jessica@GriffinCG.com