International Space Station Crew Holds News Conference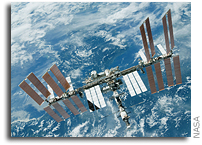 Three crew members launching in May to live and work aboard the International Space Station will hold a news conference at 1 p.m. CST on Monday, March 21, at NASA's Johnson Space Center in Houston. The briefing will be broadcast live on NASA Television and the agency's website. Questions will be taken from participating NASA centers.
NASA astronaut Mike Fossum, Japan Aerospace Exploration Agency astronaut Satoshi Furukawa and Russian cosmonaut Sergei Volkov will participate in individual round-robin interviews, in person or by phone, following the news conference. The crew also will participate in a photo opportunity for reporters at Johnson.
Media representatives planning to attend the briefing or participate in the round-robin interviews must contact the Johnson newsroom at 281-483-5111 by 5 p.m. on Friday, March 11. All of the required paperwork for international journalists must be submitted to the newsroom by March 11.
Fossum, Furukawa and Volkov are three of the six crew members who will comprise Expeditions 28 and 29. The trio is scheduled to launch to the station aboard a Russian Soyuz spacecraft from the Baikonur Cosmodrome in Kazakhstan on May 30.
They will join Expedition 28 NASA astronaut Ron Garan, and Russian cosmonauts Alexander Samokutyaev and Andrey Borisenko, who will stay aboard the station until mid-September.
In early October, NASA's Dan Burbank, and Russia's Anton Shkaplerov and Anatoly Ivanishin, will join Fossum, Furukawa and Volkov to complete the Expedition 29 crew. For astronaut and cosmonaut biographical information, visit: http://www.jsc.nasa.gov/Bios
For NASA TV streaming video, schedules and downlink information, visit: http://www.nasa.gov/ntv
For more information about the crew members and their mission, visit: http://www.nasa.gov/mission_pages/station/expeditions/expedition28