India's PSLV-C15 successfully launches CARTOSAT – 2B Satellite
India's Polar Satellite Launch Vehicle (PSLV-C15), today (on July 12, 2010) successfully launched CARTOSAT – 2B from Satish Dhawan Space Centre (SDSC) SHAR, Sriharikota. The launch of PSLV – C15 was the sixteenth consecutive successful flight of PSLV.
After a smooth countdown of 51 hrs the vehicle lifted-off from the First Launch Pad at the opening of the launch window at 09.22 hrs (IST). After about 20 minutes of flight time, India`s advanced remote sensing satellite CARTOSAT – 2B along with four auxiliary satellites was successfully injected into its circular orbit of 637 km with an orbital inclination of 98.1o.
The preliminary flight data indicates that all major flight events involving stage ignition and burnouts, performance of solid and liquid stages, indigenously developed advanced mission computers and telemetry systems were exactly as predicted.
PSLV – C15 in its flight, in addition to CARTOSAT – 2B, carried four auxiliary satellites namely STUDSAT a pico-satellite weighing less than 1 kg, built jointly by students from a consortium of seven engineering colleges form Karnataka and Andhra Pradesh, two nano satellites NLS 6.1 and NLS 6.2 from University of Toronto, Canada and ALSAT-2A, a micro-satellite from Algerian Space Agency.
PSLV-C15 moving to the launch pad
PSLV-C15 lift off view-1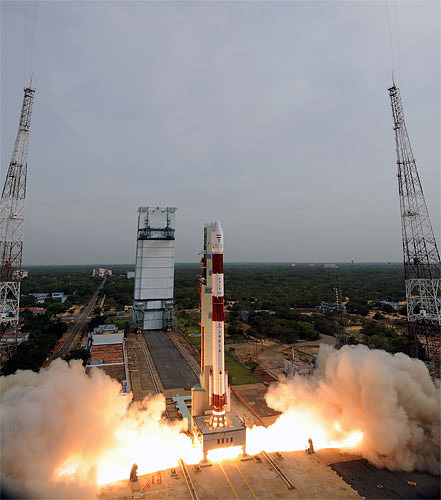 PSLV-C15 lift off view-2
PSLV-C15 lift off view-3
PSLV-C15 lift off view-4