Improved external tank to lift shuttle Endeavour to orbit Feb. 7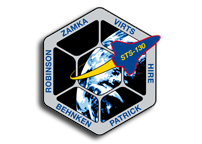 When space shuttle Endeavour lifts off from the launch pad at NASA's Kennedy Space Center, Fla., Feb. 7, it will mark the first flight of an external tank manufactured using longitudinal friction stir welds on all four liquid hydrogen tank barrels and the single liquid oxygen tank barrel. Designated ET-134, it also features a material improvement to the intertank.
The innovative friction stir welding technique uses frictional heating and forging pressure to produce high-strength bonds — virtually free of defects — on the longitudinal welds that join panels on the liquid oxygen tank, located in the forward position, and the liquid hydrogen tank, in the aft position. Together with the intertank, which joins the two, they form the 153.8-foot-high space shuttle external fuel tank.
Three of ET-134's liquid hydrogen tank barrels are about 20 feet in length; one is about 14 feet long. Together with the forward and aft dome sections, they form the 96-foot liquid hydrogen tank. Just over 54 feet long, the liquid oxygen tank holds 1,359,142 pounds of oxidizer that mixes with the 226,237 pounds of propellant in the liquid hydrogen tank to feed the space shuttle main engines to help launch space shuttles.
The barrel panels were previously joined using traditional fusion welding. One of the benefits of friction stir welding is that welds can be made on aluminum alloys that cannot be easily welded with fusion techniques. With friction stir welding, materials are not melted. A rotating pin tool uses friction and applies pressure to "plasticize" the metal and join the panels together, resulting in weld joints that are more efficient.
"Friction stir welding on the external tank is an example of how a strong contractor and government team can make a difficult implementation look easy," said John Kress, assistant manager of the External Tank Project Office at NASA's Marshall Space Flight Center in Huntsville, Ala. "The robust test program ensured success of this project and resulted in defect free barrel welds on the external tank."
"ET-134's successful flight on Feb. 7 will be a tremendous milestone with outstanding technical achievement," said Mark Bryant, vice president of Lockheed Martin's External Tank Program. "ET-134's improvements will make future spacecraft vehicles safer and more reliable."
Friction stir welding was implemented as part of a space shuttle external tank upgrade initiative begun in 2000 to improve tank robustness and production efficiencies. ET-132, which helped launch space shuttle Discovery in August, marked the initial flight of longitudinal friction stir welds on two of the liquid hydrogen tank barrels. ET-133, which flew with Atlantis in November, also flew with longitudinal friction stir welds on two barrels.
The flight of ET-134 also will debut an improvement to the intertank. Thrust panels were constructed with Aluminum-Lithium Al-Li 2297, lighter in weight than Al-Li 2219, which has been used on previous intertanks. The unpressurized intertank is a cylindrical structure with flanges on each end for joining the liquid oxygen and liquid hydrogen tanks. It is about 22 feet in length.
ET-134, like all external tanks, is taller than a 15-story building and more than 27 feet in diameter. During launch, it absorbs the 7.8 million pounds of thrust of the three space shuttle main engines and solid rocket boosters while feeding 145,000 gallons of liquid oxygen and 390,000 gallons of liquid hydrogen to the main engines and maintaining the structural integrity of the complete "shuttle stack."
The external tank is manufactured at NASA's Michoud Assembly Facility in New Orleans by Lockheed Martin Space Systems, with headquarters in Littleton, Colo. ET-134 is the 130th tank Lockheed Martin has constructed for the Space Shuttle Program. Headquartered in Bethesda, Md., Lockheed Martin is a global security company that employs about 140,000 people worldwide and is principally engaged in the research, design, development, manufacture, integration and sustainment of advanced technology systems, products and services. The corporation reported 2009 sales of $45.2 billion.
For more information about the STS-130 mission, visit: http://www.nasa.gov/shuttle