IISC Publishes Research Study on Orbital Space Tourism Demand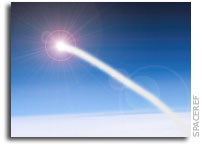 New space tourism data and research meets expanding interest in personal space travel
Douglas, ISLE OF MAN – 03 May 2011: Space projects and organisations such as Excalibur, Galactic Suite, Bigelow's Space Complex Alpha and Russian Orbital Technologies plans have created increasing interest in orbital space tourism, and with that, a need for new data and research.
The International Institute of Space Commerce (IISC) has responded to industry need and released its findings in a new study titled "Orbital Space Tourism Market Revisited 2011".
In recent years excellent research has focused on suborbital demand, but few detailed studies have been available on actual market demand for orbital personal spaceflight. Additionally, the considerable change in the financial landscape since 2008 highlighted the need for up-to-date data on the demand for personal space travel, given the impact on wealthy individuals and cash availability for space tourism.
IISC in close cooperation with ISU therefore initiated a new study which was based upon previous evaluations with fitting amendment factors as considered relevant.
"I very much welcome this report on Orbital Space Tourism Demand. With the fast moving developments in this sector, this report will be essential reading for anyone with an interest or an involvement in this area" commented Alex Downie OBE, MLC, Member of the Isle of Man Department of Economic Development with delegated Ministerial responsibility for Space Commerce.
The study evaluates the price elasticity in a price range of 5 – 20 million$ per flight and considered the potential market for the period 2012-2022. In terms of such price elasticity, a considerable effect was noted in particular in the zone between 15 and 10 million$ in terms of potential customers.
The study results can be obtained in electronic form on the IISC website under http://www.iisc.im/news.asp?article=555 .
Further information and a sample of the contents of Orbital Space Tourism Market Revisited 2011 can be obtained from http://bit.ly/gnx3C2 .
Notes
Media Contacts:
Caroline Schwob
Media Relations
International Space University
Tel: +388 65 54 55
Schwob@isu.isunet.edu
Tim Craine
Director of Space Commerce
Isle of Man Government
Tel: +44 1624 686395
Tim.Craine@gov.im
About IISC
The International Institute of Space Commerce (IISC) has been established on the Isle of Man through a partnership between the International Space University (ISU) and the Space Commerce Division of the Isle of Man Government.
The Institute's mission is to become the leading think-tank in the study of the economics of space. It is intended to be the intellectual home for the Industry and Space Academia around the world for which it shall perform studies, evaluations and provide services to all interested parties with the ultimate aim to promote and enhance world's space commerce to the general public.
The aim of the Institute is to broaden the professional perspective and personal understanding of all those involved in the study, formulation, execution, and criticism of Space Commerce.
For further information about the International Institute of Space Commerce contact Professor Walter Peeters by e-mail at Peeters@isu.isunet.edu or visit www.iisc.im where you can join the Institute online.
About ISU:
The International Space University, the gold standard in interdisciplinary space education, is a graduate school that conducts programs at its central campus in Strasbourg, France, and at locations around the world. ISU offers a unique core curriculum covering all disciplines related to space programs and enterprises, space and earth sciences, engineering, satellite applications, policy and law, business and management, and space and society. ISU also provides short courses for professional development and life-long learning.
Since its founding on the campus of MIT in 1987, with noted author and visionary Sir Arthur C. Clarke as its first Chancellor, ISU has graduated more than 3000 students from 100 countries, many now in senior positions with commercial and government space-related organizations throughout the globe. Further information on ISU : www.isunet.edu