Humans to Mars Summit 2014 to Reveal Bolder Plans and Inspire Future Generations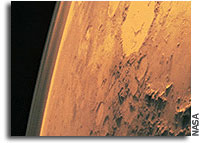 Conference dedicated to sending humans to Mars by the 2030s returns for second year with more ambitious agenda
WASHINGTON – Dec. 12, 2013 – Experts at the second annual Humans to Mars (H2M) Summit will reveal the next steps needed for a U.S.-led human mission to Mars by the 2030s. Co-sponsored by Explore Mars , George Washington University (GW) and the Space Policy Institute at GW, the Humans to Mars Summit will take place April 22-24, 2014, in the Lisner and Betts Auditoriums at GW in Washington, D.C.
To continue the progress made at the inaugural conference in May, the Humans to Mars Summit 2014 will discuss the pressing reasons for a human Mars mission, as well as the feasibility and affordability of such an undertaking. H2M 2014 will feature panels on new concepts for Mars architecture, the human factors of exploring Mars, updates on science missions and objectives, generating excitement in the space and entertainment communities, and many other new panel topics.
"The Human to Mars Summit 2014 will not only discuss what we can do to send humans to Mars, but will also discuss the real solutions and tests being developed to advance that goal," said Chris Carberry, executive director of Explore Mars. "H2M will show that Mars exploration is feasible, affordable and achievable in the next two decades. The conference takes place less than six month before NASA's Exploration Flight Test, which is the first step in sending a human mission to Mars."
H2M 2014 will be highly interactive and will attract audiences of all ages. More than 1,000 U.S. schools and tens of thousands of individuals worldwide will view the conference online, according to projections by Explore Mars.
To further engage attendees, H2M will feature a Tweetwall that will display tweets posted during the event. Speakers will share live tweets from attendees and online viewers and answer questions throughout the conference. Followers can find H2M 2014 updates and join the conversation using the hashtag #H2M.
Speakers will include space industry professionals, academic leaders, policy experts, business leaders, media and members of the entertainment industry. Many renowned speakers who participated in the previous conference will return for H2M 2014, in addition to a lineup of fresh new faces.
"The Human to Mars Summit has become a premier conference for everyone involved in the exploration of Mars," said Scott Pace, director of the Space Policy Institute. "We are honored that Explore Mars will be returning to the George Washington University."
For more information about the Humans to Mars Summit 2014 and to register, visit h2m2014.exploremars.org .
About Explore Mars, Inc.
Explore Mars was created to advance the goal of sending humans to Mars within the next two decades. To further that goal, Explore Mars conducts programs and technical challenges to stimulate the development and/or improvement of technologies that will make human Mars missions more efficient and feasible. In addition, to embed the idea of Mars as a habitable planet, Explore Mars challenges educators to use Mars in the classroom as a tool to teach standard STEM curricula.
Explore Mars, Inc. is a 501(c)(3) non-profit corporation organized in the Commonwealth of Massachusetts. Donations to Explore Mars are tax-deductible. Contact Explore Mars via its website or email info@ExploreMars.org .