House Committee on Science and Technology Subcommittee Examines Troubled NPOESS Program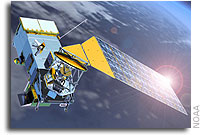 (Washington, DC) – Reorganization is necessary to limit deterioration of the National Polar-Orbiting Operational Environmental Satellite System (NPOESS) and maintain the present schedule of satellite launches, according to findings from a House Committee on Science and Technology's Subcommittee on Investigations and Oversight hearing held today to examine the troubled program.
"This Committee has devoted years of oversight to NPOESS," said Subcommittee Chairman Brad Miller (D-NC). "Despite our pressure to get this program under control, we are again facing cost overruns and slipping schedules. At the current pace, we won't see a NPOESS launch until 2039. That is obviously unacceptable. The time has come to reorganize the management of this program to guarantee a successful launch."
At today's hearing, the Subcommittee received the newest report produced by the Government Accountability Office (GAO) evaluating the NPOESS program, and Subcommittee members also received the findings from the Independent Review Team examining the program. Witnesses pointed to an ineffective NPOESS Executive Committee and agreed that reorganization of the program is vital to ensuring the program is robust and has necessary backups in place to ensure a gap in necessary weather and climate data does not occur.
When the program was established in 1993, NPOESS satellites were intended to meet weather data needs for the military and the National Weather Service. The program would also offer the opportunity to ensure continuity of climate data being collected by NASA and the National Oceanic and Atmospheric Administration.
Sixteen years later, the program's expected benefits have not materialized; instead, the agencies find themselves at risk of losing the flow of weather and climate change data that are critical to serve U.S. needs.
"There is broad agreement that NPOESS is critical not only to our national security but to our civilian interests, such as predicting weather patterns and measuring climate change," said Subcommittee Vice Chair Kathy Dahlkemper (D-PA). "However, we must urgently regain control of the spiraling costs and ensure the effective management of this project. Continued oversight will be important as we develop the needed solutions to the problems we discussed today."
Chairman Miller said the current lack of backups in the NPOESS program has left only a small margin for error. NOAA recently made its last polar satellite operational, and its predicted lifetime is five years.
"With every passing month, GAO reminds us that we get closer to the probability of a data interruption in weather data, as well as the certain interruption in climate data," said Miller. "We need the NPOESS data to provide accurate weather forecasts and to help understand how our climate is changing. Cancellation is not an option and failure is unacceptable."
For more information on the Committee's oversight of NPOESS, please visit our website.