House Committee on Science and Technology Releases Compromise Language on NASA Reauthorization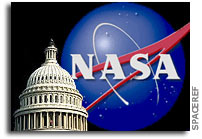 (Washington, DC) – Today, Committee on Science and Technology Chairman Bart Gordon (D-TN) released compromise legislative language for the NASA Reauthorization Act.
Chairman Gordon offered the following statement: "This is House compromise language, with bipartisan support. It reflects months of discussions and input from many Members. As a result, we believe we have a bill that both builds on and improves on H.R. 5781, the NASA Authorization Act that was marked up by the Science and Technology Committee earlier this year. Moreover, we believe this compromise helps move the discussion about the future of NASA closer to a final product.
This is a good, bipartisan, and fiscally responsible bill. For too long, NASA has not been given the resources to complete the many missions the nation has asked of it. NASA is too important to the nation to continue on that path. This will provide a clear and sustainable direction for NASA, in light of the current fiscal environment."
For more information including on the Committee's work on NASA, including the compromise language and a comparison between the new text and the Committee-approved bill, please visit our website.