House Committee on Science and Technology Recognizes NASA's Accomplishments on 50th Anniversary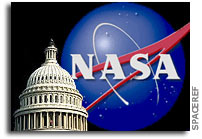 (Washington, DC) – Today, the House Committee on Science and Technology held a hearing to celebrate the National Aeronautics and Space Administration's (NASA) 50th anniversary by reviewing its accomplishments and examining its future opportunities and challenges. Committee Members questioned a distinguished panel of witnesses, including Hon. John Glenn — the first American to orbit the Earth — regarding the most influential factors that have shaped our nation's leadership in space and Earth science, aeronautics, and human spaceflight and exploration.
"The Science and Technology Committee was one of Congress's responses to the Soviet Union's successful launch of Sputnik 1 in late 1957. Sputnik led to a national reexamination of America's educational system, our scientific research infrastructure, and our goals and capabilities for space exploration. And this Committee was given the responsibility of leading congressional oversight of those issues," stated Chairman Bart Gordon (D-TN).
"NASA has been one of the most significant engines of scientific and technological progress in America over the past fifty years Investments made in NASA since 1958 have produced achievements that have profoundly affected our daily lives, whether through the practical benefits of NASA's meteorological satellite R&D and its remote sensing satellites or due to the innumerable improvements NASA has made to our civil and military aircraft technologies–improvements that have made them safer, faster, more efficient, and more environmentally friendly," stated Space and Aeronautics Subcommittee Chairman Mark Udall (D-CO).
"At the end of day, NASA and its programs are still recognized around the world as a shining symbol of American preeminence in science and technology. We need to ensure that that continues to be the case," added Gordon. "In that regard, I am pleased that the House of Representatives passed the Committee's bipartisan NASA Authorization Act by an overwhelming margin, because I believe that bill will help provide positive guidance to the next Administration regarding the importance of investing in our nation's civil space and aeronautics programs."
Currently, H.R. 6063, the National Aeronautics and Space Administration Authorization Act of 2008, authored by Subcommittee Chairman Udall, is being reviewed by the Senate.
"NASA is one of the crown jewels of the nation's research enterprise, and it is a symbol of mankind's quest for innovation and understanding that is recognized and appreciated throughout the world," said Udall. "I think we owe a debt of appreciation to all the men and women of NASA, its contractors, and the universities and research institutions that have made it all possible."
Members heard testimony from:
Hon. John Glenn, United States Senate [retired] Mr. Norman Augustine, Chairman and Chief Executive Officer, [retired] Lockheed Martin Corporation Dr. Maria Zuber, Department Head and E.A. Griswold Professor of Geophysics, Department of Earth, Atmospheric, and Planetary Sciences, Massachusetts Institute of Technology
In addition, Stephen Hawking, one of the world's leading cosmologists and theoretical physicists, provided a prerecorded message for the hearing.
For more information about this hearing or to access witness testimony visit the Committee's website.