High Schoolers Help NASA Take One Small Step Back To The Moon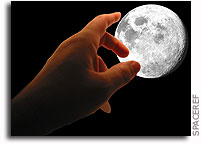 CAPE CANAVERAL, Fla. – High school students from 35 Florida schools recently experienced what it might be like to land a rocket on the moon or excavate the lunar surface. During two, one-week sessions this summer, eager students worked alongside NASA mentors at Kennedy Space Center to participate in a Governor's School pilot program for the gifted.
NASA's involvement in the pilot program included hosting the student groups and creating research projects that explore challenges related to lunar exploration. These challenges included lunar landing, lunar excavating and protecting a pressurized habitat. At the end of each session, the students presented their solutions to a NASA panel of engineers and education coordinators.
Dr. Lesley Garner, the pre-college officer in NASA's Education Office at Kennedy, coordinated NASA's portion of the pilot program. Garner hopes the students will have a greater understanding of academic majors they can pursue in science, technology, engineering and mathematics for careers they didn't know existed.
Funding for the pilot program was provided by the state of Florida and given to three universities, Florida Tech, Embry Riddle Aeronautical University and Florida State University, to plan and pilot test the program. Space Florida, NASA and Delaware North Park Services provided the curriculum.
Kennedy mentors were Drs. Bob Youngquist and Philip Metzger, as well as Rob Mueller and Greg Galloway, all from the Applied Technology Directorate. They presented real space-related problems for the students to solve along with hands-on activities.
Bailee Williams, a senior at Hardee Senior High in Wauchula, was one of six students who conducted a team experiment to simulate excavating on the moon. Under Galloway's guidance, Williams used a scaled-down NASA prototype lunar excavator to investigate the amount of force required to dig in a simulated lunar surface.
"This isn't something I get to do everyday, so it's great I was able to participate in a program like this," Williams said. When she returns to her school she will give a presentation to her physics teacher and classmates on what she learned.
Corbin Ferris, a senior at St. Augustine High School, said the best parts of his experience at Kennedy were the group projects and learning about new technologies. Ferris learned about current methods for locating and measuring defects in orbiter windows. With Dr. Youngquist as mentor, Ferris and his team members learned about optical techniques and carried out discussions of how they could be utilized in a space station or lunar habitat scenario.
Ferris, who is looking into a career in engineering, said it was interesting to see all the types of available jobs at NASA.
"NASA research will benefit from the students' fresh 'out of the box' solutions for future lunar missions," Garner said. "It was a win-win situation; and I hope a sustainable Governor's School for the gifted is the end product."
Student participants are listed by county:
Bay: Amilea Borel, Bay High School, Panama City.
Brevard: Parker Allen, Melbourne High School, Melbourne; Joshua Emison, Bayside High School, Palm Bay; and Julia Rauchfuss, West Shore Jr./Sr. High, Melbourne Beach.
Broward: Aaron Lewis, JP Taravella High School, Coral Springs.
Calhoun: Harlea Perdue, Blountstown High School, Altha.
Charlotte: Ashley Kreher, Lemon Bay High School, Rotonda West.
Clay: Jessica Evans, Orange Park High School, Orange Park.
Columbia: Adam Griffy, Fort White High School, Fort White.
Duval: Jessica Yeung, Stanton College Preparatory School, Jacksonville.
Escambia: Victor Mendez, Pensacola High School I.B. Program,Cantonment.
Flagler: Rebecca Wight, Matanzas High School, Palm Coast.
Gilchrist: Sean Kirby, Trenton Middle High School, Trenton.
Hardee: Bailee Williams, Hardee Senior High School, Wauchula.
Hillsborough: Elisa Berson, Freedom High School, Tampa.
Lee: Brittany Kociuba, North Fort Myers High School, Cape Coral.
Leon: Jayshree Balakrishnan, James S. Rickards High School, Catherine Branch, Lawton Chiles High School, both in Tallahassee.
Marion: David Lakin, Forest High School, Ocala.
Miami-Dade: Natalia Slepak, Miami Palmetto Sr. High School, Miami.
Monroe: Daniella Fioravanti-Score, Coral Shores High School, Key Largo.
Orange: Linda Cao, Timber Creek High School, Orlando; Scott Palmese,
Olympia High School, Ocoee.
Palm Beach: Michael Koester, Park Vista High School, Lake Worth.
Pasco: Stephanie Schlageter, Zephyrhills High School, Zephryhills.
Pinellas: Shailaja Emani, Palm Harbor University High, Safety Harbor; Sarah Gardiner, Lakewood High School, St. Petersburg.
St. Johns: Matthew Walsh, Bartram High School, Saint Johns; Corbin Ferris, St. Augustine High School.
St. Lucie: Gerald Condon, Lincoln Park Academy, Port St. Lucie.
Seminole: Alex Friedman, Lake Mary High School, Lake Mary.
Sumter: Connor Schofill, South Sumter High School, Bushnell.
Suwannee: Wendell Mellette, Branford High School, Branford.
Volusia: Deepak Sathyanarayan, Spruce Creek High School, Ormond Beach; Kyle Mays, DeLand High School, Deland.