Hamilton Sundstrand to Provide Key Technology for Jupiter Icy Moons Orbiter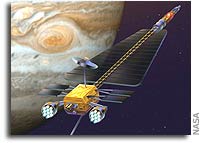 When NASA's Jet Propulsion Laboratory announced Sept. 20 it had selected Northrop Grumman to co-design the proposed Prometheus 1 spacecraft for the Jupiter Icy Moons Orbiter (JIMO) mission, it was very good news for Hamilton Sundstrand. JIMO would be the first mission in NASA's Project Prometheus.
Hamilton Sundstrand is partnered with Northrop Grumman to provide technology development for several critical systems for the spacecraft, which would orbit the three planet-sized moons of Jupiter. Scheduled to launch no earlier than 2015, JIMO would be the first NASA mission to use nuclear electric propulsion.
Hamilton Sundstrand's proposed effort includes developing technology for the JIMO Brayton Power Conversion System, Power Conditioning and Distribution Subsystem, Heat Rejection subsystem and for the Xenon propellant tanks.
"We are delighted to be a key player on the Northrop Grumman team and to have a major role in what will be a technically challenging effort to develop complex systems for a whole new era in space exploration," said Steve Krise, General Manager of Hamilton Sundstrand's Missile, Satellite and Launch Systems enterprise in Rockford, Illinois. "Hamilton Sundstrand has been a proud supplier to NASA for four decades and we look forward to the collaborative work ahead with NASA's Prometheus team."
Hamilton Sundstrand, based in Windsor Locks, Conn., is a subsidiary of United Technologies. A leading supplier of advanced technology aerospace and industrial products and services, the company employs approximately 16,000 at its operations worldwide.
This release includes forward looking statements that are subject to risks and uncertainties, including those related to the anticipated benefits and elements of the contract. Factors that could cause actual results to differ materially from those anticipated include challenges in the design, development, production and support of advanced technologies; delays in obtaining government approvals; and uncertainties in approval of government funding for the contract. For additional information identifying technological, government procurement policies and other important factors that could cause actual results to differ materially from those anticipated in the forward looking statements, see UTC's SEC filings as updated from time to time.
Contact:
Peg Hashem
860-654-3469
http://www.hamiltonsundstrand.com