Hamilton Sundstrand Equipment Playing Key Role in Historic STS-127 Mission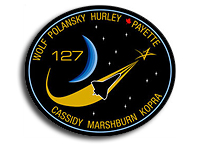 Hamilton Sundstrand equipment is playing a crucial role in NASA's STS-127 mission to the International Space Station (ISS). Hamilton Sundstrand is a subsidiary of United Technologies Corp. (NYSE:UTX) .
Much like 40 years ago — when Hamilton Sundstrand equipment supported the historic July 20, 1969 Apollo moon landing — Hamilton Sundstrand equipment will again support a significant milestone in the nation's rich space travel history when the STS-127 crew sets a record for the most people (13) in space at one time.
Many Hamilton Sundstrand systems will enable NASA and its international partners to reach that milestone. The company's One EVA program will provide space suits, tools and mission support for the mission's five scheduled spacewalks (EVAs) to continue critical assembly activities. Hamilton Sundstrand systems also provide the ISS with power and re-generable environmental control and life support.
Hamilton Sundstrand's expertise and highly technical systems will ensure air, water and electricity are available on the ISS to keep astronauts comfortable and safe. With the recently completed Electric Power System, activation of the Water Processor Assembly and use of the recently installed Oxygen Generation Assembly, systems provided by Hamilton Sundstrand, NASA and its partners enable astronauts to conduct critical science missions on board the ISS.
"Hamilton Sundstrand and its employees are proud to contribute to the successful implementation of the life support and various other systems for the space program," said G. Allen Flynt, Hamilton Sundstrand Energy, Space & Defense space systems general manager. "This mission, and every mission after it, will benefit from Hamilton Sundstrand's advanced technologies, which allow NASA to efficiently use critical resources in space."
STS-127 is the 127th shuttle flight and 29th mission to the International Space Station.
A partner in America's space program since its inception, Hamilton Sundstrand, provides a number of power and environmental control systems for the International Space Station, space shuttle and the Orion crew exploration vehicle now under development. The company has been the prime contractor to NASA for the space suit since the shuttle era began in 1981.
With 2008 revenues of $6.2 billion, Hamilton Sundstrand is headquartered in Windsor Locks, Conn. Among the world's largest suppliers of technologically advanced aerospace and industrial products, the company designs, manufactures and services aerospace systems and provides integrated system solutions for commercial, regional, corporate and military aircraft. It also is a major supplier for international space programs.
United Technologies Corp., based in Hartford, Conn., is a diversified company providing high technology products and services to the building and aerospace industries worldwide.
Contact: Dan Coulom
860-654-3469
Source: Hamilton Sundstrand
CONTACT: Dan Coulom of Hamilton Sundstrand, +1-860-654-3469