Green Paper on European Space Policy: An added dimension for Europe in space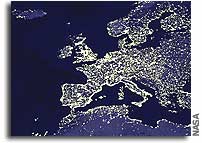 The Green Paper on European Space Policy is a strategy document which opens up a new era for Europe in space. To foster debate on the issues raised by the Green Paper, the European Commission and the European Space Agency jointly arranged broad consultation across Europe.
With six meetings scheduled in European capitals, workshops, bilateral presentations and an on-line forum, this consultation has already prompted several thousand contributions from a whole host of interested parties. Institutional users, industrial managers, researchers and scientists, NGOs and ordinary citizens in Member States, applicant-member countries and other countries associated with European space activities have thus had ample opportunity to voice their opinions and help usher in a new era for Europe in space.
A Closing Conference will be held in Paris on 23/24 June to round off the process.
WHO?
Philippe BUSQUIN, European Commissioner responsible for research and space
Antonio RODOT¿, Director General, European Space Agency
Claudie HAIGNE, Minister for research and new technologies, France
Letizia MORATTI, Minister for education, universities and scientific/technological research, Italy
Edelgard BULMAHN, Minister for education and research, Germany
WHAT?
Press Conference, to coincide with the Closing Conference on the European Space Policy Green Paper consultation process.
WHEN?
Tuesday 24 June 2003 at 12h00
WHERE?
Maison de la Chimie (room 201)
28 bis rue Saint Dominique
75007 Paris
This will serve to draw conclusions from the feed-back received and define priority action and specific measures to boost Europe's role in space and better harness the potential of space to serve its citizens. The measures will be set out in a White Paper due out in the autumn.
The consultation has already clearly highlighted the need to better integrate all the components ñ and all the players ñ involved. Better integration is seen as vital in taking up the challenges of the 21st Century and securing Europe's independence in an area of strategic importance for its economic future and the well-being of its citizens.
The Closing Press Conference will feature Research Commissioner Philippe Busquin, ESA Director General Antonio Rodot‡ and Ministers from three countries of key importance to Europe's space research and industry (France, Germany, Italy).
This is a rare opportunity to hear these European decision-makers and question them on their vision for Europe's future space endeavours.
NOTE TO EDITORS
For further information on the 24 June Press Conference:
Patrick Vittet-Philippe
Press and Information Officer, DG Recherche Commission EuropÈenne
Tel: +32.2.2969056
Mobile: + 32 477 274663
Email: patrick.vittet-philippe@cec.eu.int
Donna Reay
StratÈge et politique pour le transport durable, DG Recherche Commission EuropÈenne
Tel + 32 2 299 3769
E-mail: donna.reay@cec.eu.int
Franco Bonacina
Porte Parole
Agence Spatiale EuropÈenne
Tel + 33 1 5369 7713
E-mail: franco.bonacina@esa.int
Porte parole du Commissaire Busquin:
Fabio Fabbi
Tel +32 2 296.41.74
E-mail:Fabio.Fabbi@cec.eu.int