Goddard and Lockheed Martin Upgrade Computers Within Prince George's County Public Schools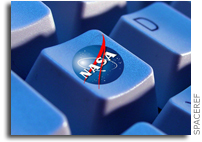 Goddard Space Flight Center (GSFC), Lockheed Martin and the Prince George's County Public Schools are celebrating a partnership that will upgrade the school system's computers.
Donations of refurbished computers and associated equipment is possible because Lockheed Martin is the primary contractor for NASA's Outsourcing Desktop Initiative (ODIN), responsible for upgrading Goddard computers.
"We are proud to support Prince George's County Public schools in their efforts to bring enhanced technology education to their students," said Robert Strain, Center Director at GSFC. "Through this partnership with Lockheed Martin and the school system, we hope to promote a high-tech learning environment for county students that will encourage the next generation of explorers."
Local high schools in Oxon Hill, Fairmont Heights, Bladensburg, Bowie and Northwestern have already received more than 140 pieces of computer equipment. Donations will continue throughout the year as older systems are replaced at Goddard.
"Lockheed Martin is a longtime supporter of STEM (science, technology, engineering, mathematics) initiatives and is proud that our work on the ODIN program can directly contribute to advancing technology education," said Colleen Leighty, Director, Lockheed Martin's Enterprise Information Technology team. "This agreement will ensure Prince George's County students will have a constant supply of computers to support their learning experiences. We look forward to continue working with the County and NASA to provide students every opportunity possible."
School officials say many of their computer systems are at least six years old. The donated computers are three years old and perform much faster and at a higher quality.
"We appreciate the donation of computer equipment from NASA and Lockheed Martin," said Dr. William R. Hite, Jr., Superintendent, Prince George's County Public Schools. "As benefactors of this generous donation, our students will continue to learn on updated technology as they prepare themselves for high school graduation and beyond. It is through partnerships like this that our students will be prepared to compete in the global workforce."
This initiative is part of NASA's continuing tradition of investing in the nation's next generation of explorers. It is directly related to the agency's educational goal of strengthening NASA's and the nation's future workforce. NASA continues to partner with national and local programs in support of STEM subjects while developing the critical skills and capabilities necessary for future space exploration. 
For more information about NASA Goddard Education visit: http://www.nasa.gov/centers/goddard/education/
For more information about Prince George's County Public Schools visit Children Come First: http://www.pgcps.org