Future of U.S. Space Transportation and NASA's Role Among Hot Topics for Space Tech Conference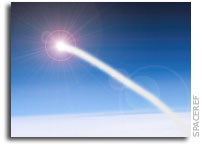 At the Space Tech Conference (http://www.spacetechexpo.com/conference-program-2013) in Long Beach, California, May 21-23, 2013, officials from NASA, Boeing, United Launch Alliance, SpaceX, Sierra Nevada Corporation, and the Commercial Space Flight Federation will reveal new developments in the commercial space crew and cargo arena, as they discuss the future of commercial space flight.
Scheduled panellists for the "Commercial Crew and Cargo" session of Space Tech Conference include: Edward J. Mango, Commercial Crew Program, NASA Kennedy Space Center; John Mulholland, Vice President & Program Manager, Boeing; Garrett Reisman, DragonRider Project Manager, SpaceX; Mark Sirangelo, Corporate Vice President, Sierra Nevada Corporate Space Systems; Andrew Aldrin, Ph.D, Director Business Development, United Launch Alliance; and Michael Lopez-Alegria, President, Commercial Spaceflight Federation.
"With NASA focused on deep space missions, private U.S. companies are likely to operate most flights between earth and the International Space Station, promising to save NASA money and bring millions of dollars to American enterprises," says Guy Harris, conference director of Space Tech Expo, where the conference will take place.
Space Tech Conference (http://www.spacetechexpo.com/conference-program-2013), will bring together high-profile market players and industry specialists to discuss the pressing business issues facing the space industry. These include addressing challenges and opportunities in space commercialization, commercial crew and cargo, space tourism, space launch systems, space funding, technology transfer, International Space Station utilization, military requirements, and supply chain and acquisition considerations.
The Space Tech Conference will take place as part of Space Tech Expo, a B2B exhibition for the design, test and build of satellite, spacecraft, launch vehicle and space-related technologies. The exhibit hall will feature over 140 companies and organizations displaying their latest products, technologies and innovations. Space Tech Expo and Space Tech Conference 2013 will take place May 21-23 in Hall A at the Long Beach Convention Center. To view the full agenda and registration details, please visit www.spacetechexpo.com.
Media interested in covering the event are invited to register for full access at: http://www.spacetechexpo.com/press-registration
Contact:
MEDIA CONTACT:
Blanca Balaguer
Email: [email protected]
Phone: 877 842-6289
US PR contact: Dan Freyer
Email: [email protected]
Phone: 310 849-0721