Future of Space Tourism, Research Opportunities Will Be Focus of Conference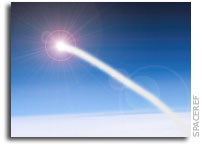 ORLANDO, Feb. 22, 2011 – The CEO and president of Richard Branson's space company, Virgin Galactic, will discuss the promise of space tourism at the University of Central Florida on Monday, Feb. 28 — shortly after shuttle Discovery is scheduled to fly.
George Whitesides also will describe how space vehicles in development will open new avenues for science and technology during a free public talk at 8 p.m. in the Pegasus Ballroom of the Student Union. The talk is part of the second-annual Next-Generation Suborbital Researchers conference that runs through March 2.
Whitesides is one of dozens of commercial and scientific leaders who will attend the international conference, which is expected to draw as many as 400 scientists, engineers and educators from around the world. They will learn about a new generation of space vehicles capable of economically delivering payloads, experiments and tourists into space.
Blue Origin, Masten Space Systems and Virgin Galactic representatives are all expected to attend. A press conference at noon on the 28th will include news from Virgin Galactic, XCOR, SwRI, Astronauts for Hire, and others.
"It's an exciting new era for space exploration, and we are poised to be a big part of it," said Associate Professor Joshua Colwell, local organizer of the conference. "This conference is a great opportunity for students, scientists, engineers and educators to get the latest information and form partnerships for immediate and future opportunities."
Several companies are building and testing spacecraft that may be able to launch as early as 2012. Colwell and a team of his students are preparing several experiments that are scheduled to fly aboard Blue Origin's spacecraft — New Shepard.
Less than an hour from Kennedy Space Center, UCF has a growing planetary sciences group that is strategically aligned to be a hub for space research and to provide innovative hardware for the next generation of space exploration.
Several UCF professors and students will be presenting at the meeting.
Registration is necessary to attend the workshops, lectures and special presentations, but media can get a complimentary credential by visiting http://nsrc.swri.org
MEDIA CONTACT: Zenaida Gonzalez Kotala, UCF News & Information, 407-823-6120 or zenaida.kotala@ucf.edu
UCF Stands For Opportunity –The University of Central Florida is a metropolitan research university that ranks as the second largest in the nation with more than 56,000 students. UCF's first classes were offered in 1968. The university offers impressive academic and research environments that power the region's economic development. UCF's culture of opportunity is driven by our diversity, Orlando environment, history of entrepreneurship and our youth, relevance and energy. For more information visit http://news.ucf.edu