Franklin, Virginia Native Recognized Among NASA Best, Brightest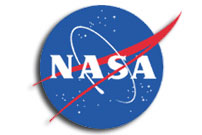 To be competitively selected from among this country's best and brightest is considered a unique honor and privilege. To return as Operations Manager of the same program has got to be considered among the stratosphere of educational achievement for an undergraduate student.
That is the level of achievement Sherrica Newsome currently finds herself as Operations Manager for the 2008 NASA Academy at the Goddard Space Flight Center in Greenbelt, Maryland. The operations manager is considered the glue that holds the program together. They are responsible for insuring that everything and everyone is where they are suppose to be during the 10-week program. "Sherrica is as professional as they come, kind and considerate yet effective," says David Rosage, NASA Academy program manager. "When it comes to staffing the academy, she is among the best." In addition to coordinating activities the operations manager is also expected to be a role model and mentor for participating students.
A Franklin, Virginia, native, Sherrica has been interested in astronautics and space science for as long as she can remember. "I first became fascinated about space because of the stories my dad use to tell me," Newsome says. "It was definitely a dream of his and I guess I inherited it." She was also inspired while participating in SHARP, a former high school internship at NASA's Langley Research Center in Hampton, Virginia. The experience uncovered a career path and goals that were just right for Newsome.
Her first recognition as being among the best was realized at Franklin High School in 2003 where she graduated valedictorian with grade point average of 4.0. She was accepted and studied at Virginia Tech receiving a bachelor's degree last year in aerospace engineering with a minor in mathematics. As an undergraduate, Newsome and her research team won first place for their scientific research at the International Laser Radar Conference Matera in 2004. She was also honored throughout those four years as a National Action Council for Minorities in Engineering (NACME) Scholar.
Newsome was singled out a future leader of space exploration last summer when she was selected for the Goddard Academy. When asked about the opportunity to be an academy participant Newsome says, "It was an opportunity of a lifetime. The program coined NASA's boot camp, had us working until midnight or later daily, however, I wouldn't change a thing. By the end of the program it became clear that I was on the right path."
Known as the NASA Academy, the residential internship was created in 1993 to identify and cultivate future leaders for the United States Space Program. It has provided an opportunity for some of this nation's best and brightest students to interact with some of the world's premier space scientists and engineers within NASA. Participants visit other NASA centers, talk with movers and shakers within the aerospace industry, develop a group project and they are also expected to conduct an independent research project. As a participant last year, Newsome's research focused on a new method for autonomous rendezvous and space docking.
Returning to lend coordinating support to the program has provided Newsome another unique vantage point for learning. "It is a completely different perspective," she says. "As a student, you're one of about 20 leaders all trying to soak up as much as you can from the experience. But as a manager I am the person under the spotlight and it's my job to help plan the summer then make sure the summer runs smoothly for the benefit of the students. It's a completely different experience."
Newsome confessed with a big smile that she has enjoyed every minute working with this year's students. She also admits to a few challenges. There were a few program challenges but her biggest test has been separating herself from student to become the authoritative figure required for her position. "I can easily relate to them and feel like I'm one of them but I must remind myself that I am not the student this time. I am in charge of them."
In just a couple of weeks Newsome will begin studies to complete a Master's Degree in Science, Technology and Policy at the Massachusetts Institute for Technology (MIT). She believes this background will position her as a key player to plan and influence future space exploration efforts. Her ultimate educational goal is to receive a doctorate degree and become a college professor. Her desire is to lead and inspire the next generation because of her life, passion and wisdom.
For now Newsome has accepted the challenge to gain a better understanding of the unlimited or indefinitely great three-dimensional expanse in which all material objects are located and all events occur or what we commonly refer to as space exploration. She has been most fortunate to rendezvous with an agency created to explore the universe and a program inspiring future leaders. With her talent and passion another of this nations' best and brightest is preparing for a career to lead future explorations far beyond the boundaries of earth.
For more info about the Academy go to: http://www.nasa-academy.nasa.gov/