Forum on Concepts & Approaches for Jupiter Icy Moons Orbiter Mission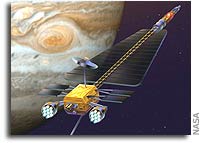 In cooperation with the Office of Solar System Exploration of NASA
Headquarters, the LPI will be hosting a Forum on Concepts and
Approaches for Jupiter Icy Moons Orbiter, to be held June 12-14,
2003, at the Center for Advanced Space Studies, 3600 Bay Area Blvd.
The first announcement, including information about the purpose and
scope of the meeting, along with logistical information and the call
for abstracts, will be available no later than Friday, April 11,
2003. This information will be accessible via the LPI's Web site at
http://www.lpi.usra.edu/meetings/jimo2003
Abstracts will be limited to one page, and are due at the LPI by
Monday, April 28, 5:00 p.m. U.S. Central Daylight Time (i.e., the
time in Houston, Texas). Instructions for authors, templates, and
an electronic abstract submission form will be provided on the above-
mentioned site.