First Mars, then Venus!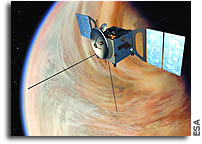 Fifteen days after the launch of Mars Express, Europe has reaffirmed its trust in Soyuz: next stop Venus in 2005!
Just two weeks after the flawless launch of Mars Express on its way towards the Red Planet, ESA and the European-Russian company Starsem reinforced their relationship with the signature of the Venus Express launch services agreement.
The contract was signed at Le Bourget (Paris) Air Show, Tuesday, 17 June 2003, by David Southwood, Director of Science for the European Space Agency, and Jean-Marie Luton, CEO of Starsem. Yuri Koptev, General Director of the Russian Aviation and Space Agency Rosaviakosmos, Jean-Jacques Dordain, Director of Launchers for the European Space Agency, and Jean-Yves Le Gall, CEO of Arianespace, also attended the ceremony.
The launch of Venus Express will take place in November 2005 from the Baikonur Cosmodrome in Kazakhstan. The Soyuz launch vehicle will send the spacecraft on its way towards our nearest planetary neighbor.
Europe's latest vote of confidence in the Soyuz continues a long tradition of cooperation between Europe and Russia. This announcement comes soon after the decision by European space ministers to build a Soyuz launch pad at Europe's Spaceport in Kourou, French Guiana.
Starsem is the Soyuz Company, bringing together all key players involved in the production, operation and international commercial marketing of the world's most versatile launch vehicle. Shareholders in Starsem are Arianespace, EADS, the Russian Aviation and Space Agency and the Samara Space Center.
The Starsem manifest for Soyuz missions currently includes contracted launches for the European Space Agency, Eumetsat and Space Systems/Loral.