EZ-Rocket Roll Out and Demonstration Flight: 12 November 2001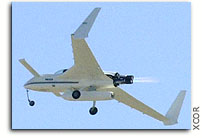 XCOR Aerospace has
announced the official EZ-Rocket rollout. This event will be held on
Monday, November 12, 2001 at Mojave Airport. The event will begin at
10:00 AM and include a demonstration flight of the EZ-Rocket flown by
XCOR's Test Pilot, retired United States Air Force Lieutenant Colonel
Dick Rutan. Lieutenant Colonel Rutan is a Vietnam veteran and world-famous
test pilot. The EZ-Rocket is a privately built, liquid-fueled, rocket-powered
airplane and sets a major milestone demonstrating routine operations
of a rocket-powered vehicle. Other milestones in liquid rocket-powered
aviation include:
– World's first-fueled liquid rocket airplane: German
Heinkel He-176, flew on June 20, 1939
– Last liquid-fueled rocket power take-off from a runway:
Edwards Air Force Base, X-1 flight 105 – January 5, 1949 piloted by
Chuck Yeager;
– Last liquid-fueled rocket flight: Edwards Air Force
Base: X-24B, – November. 26, 1975, piloted by Thomas McMurdy, dropped from an altitude of approximately 30,000 feet
The EZ-Rocket first performed single engine runway fast-taxi
tests on July 21, 2001. On October 3, the
EZ-Rocket was flown to an altitude of 6,200 feet with a dual engine
run time of one minute and thirty six seconds and total flight time
of five minutes and twenty seconds.
Mojave Airport is approximately 90 miles north of Los
Angeles.
To attend the November 12 Rollout you MUST have an invitation.
If you are interested in attending, please call Aleta or Rich at XCOR
at (661)-824-4714 or [email protected].
The event will be begin at 10 AM and last approximately two hours. The
EZ-Rocket, Dick Rutan, and XCOR officials will be available for pictures
and interviews.
EZ-Rocket Specifications
The EZ-Rocket is a modified Long-EZ homebuilt aircraft.
The aircraft is powered by twin 400 lb thrust regeneratively cooled
rocket engines. The EZ-Rocket includes an external composite fuel tank
and an insulated internal aluminum liquid oxygen tank. The modifications
were performed at XCOR Aerospace's Mojave, CA shop. Tests are performed
at the Mojave Civilian Flight Test Center.
About XCOR Aerospace
XCOR Aerospace is a California corporation located in
Mojave, California. The company is in the business of developing and
producing safe, reliable and reusable rocket engines.
Contact: Wayne Hammack
The Hammack Group
Phone 303-469-7479
Fax 303-469-7494
[email protected]